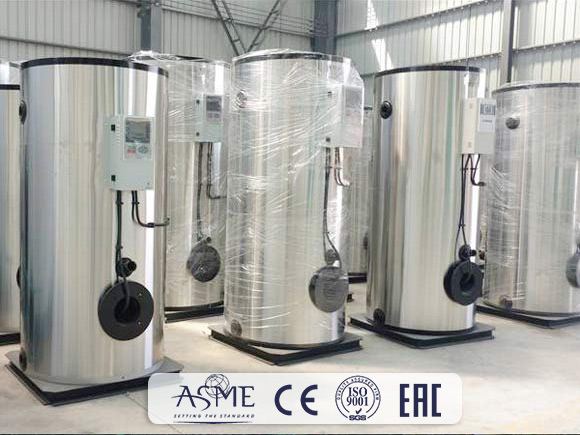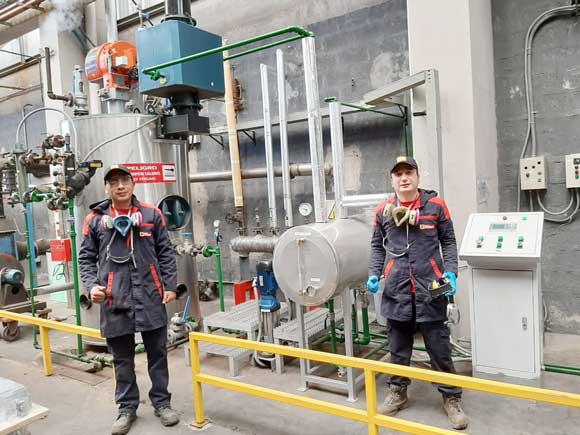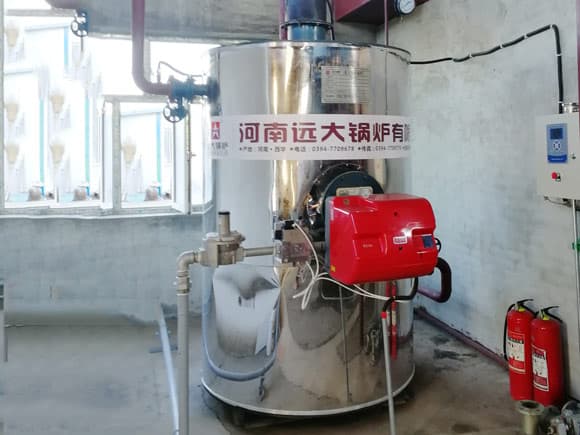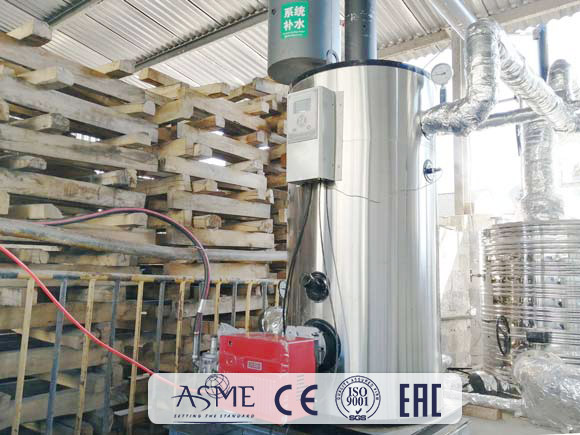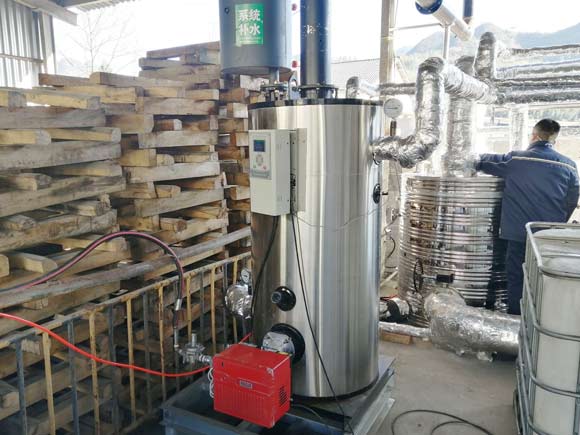 Small Hot Water Gas/Diesel Boiler
Capacity:100kw-1400kw
Pressure:0-3.8Mpa, 0-38Bar
Materials:Carbon steel, Stainless steel
Heating use:Steam, Hot water
Features:Vertical fire tube boiler / LHS gas oil boiler / small steam boiler/ small heating water boiler / small diesel boiler / small gas boiler
Get price
Send Message
Introduction
Vertical gas-fired (diesel-fired) boiler, 100kw-700kw hot water boiler
LHS boiler is vertical type low pressure two pass fire tube boilers, applicable to various fuels such as diesel, natural gas, lpg. Have advantages of low cost, smaller area occupied, quick heating power.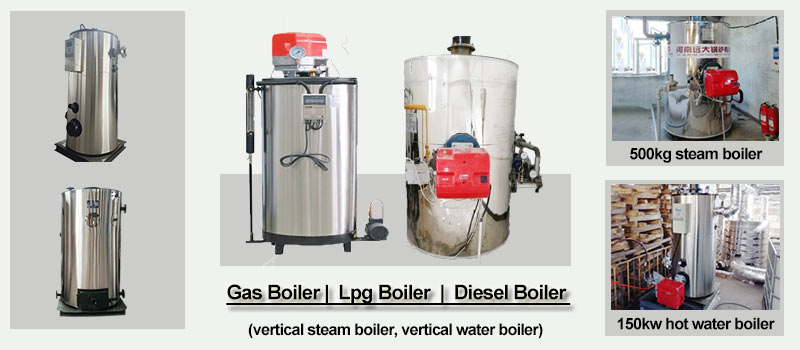 Core Technology: Adopt three-pass structure with top-fired burner, the flame can completely spread from the top to the bottom and burn sufficiently. The gas need to make a three pass heat transfer, so the heat loss is reduced and the thermal efficiency is higher.
LHS

vertical boiler advantages



1. Low pressure operation, safe and quick steam generation,vertical type, small area occupied, low investment cost
2. Adopt unique heat resistance design, big heating area, high thermal efficiency
3. Big furnace design, make sufficient combustion, high combustion efficiency
4. Multi-protection for over pressure, over temperature, water shortage, flameout to ensure the boiler saftey operation.
Project 350kw gas heating boiler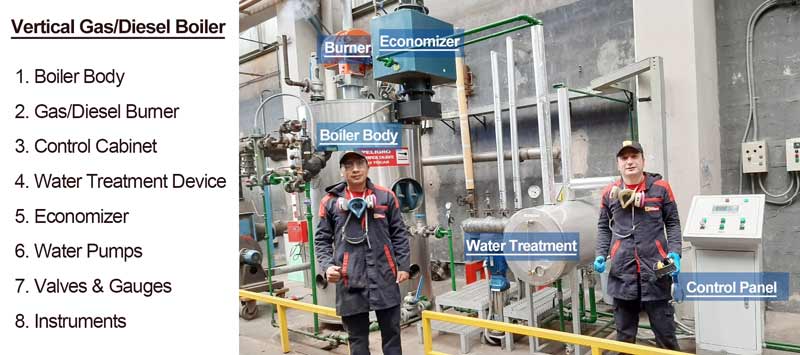 Global Sales
Catalogue All Products
1. Gas boiler, Lpg boiler, Diesel boiler, Heavy oil boiler, Dual fuel boiler, Exhaust gas waste heat recovery boiler
2. Coal boiler, Charcoal boiler, Wood boiler, Biomass boiler, Pellet boiler, Ricehusk boiler, Palm shells boiler
3. Electric boiler, Electric steam generator, Electric hot water boiler,
4. Thermal Oil Heater Boiler, Thermic Fluid Heater, Hot Oil Boiler. (Powered by gas, diesel, electric, coal, wood biomass)
5. Steam Boiler, Hot Water Boiler, Steam Generator Boiler, Combined Heat and Power Boiler, Superheated Steam Boiler

About us Yuanda Boiler
1. All products Certified With ASME, CE, ISO, EAC, DOSH, TUV, BUV, Ensuring High Quality and Compliance with International Standards.
2. Our company established since 1956, over 65 years manufactureing experiences, 15 Years export experience.
3. Global service team for boiler solution, boiler design, order contract, boiler delivery, boiler install and commissioning.
4. Until now, our products have been exported to 103 countries all over the world, trustable quality & services for lifespan.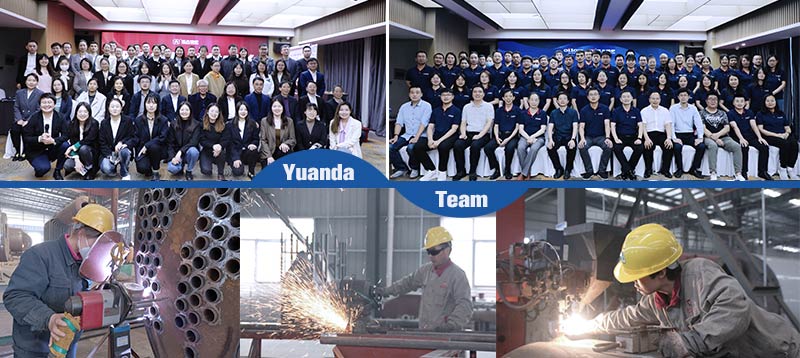 Parameter
Vertical Hot Water Boiler Technical Parameter Data
Boiler model
Rated

capacity

Outlet

water temperature

Return water temperature
Fuel consumption
Main part weight
(KW)
(℃)

(℃)
natural gas
diesel
lpg
ton
CLHS0.1
100KW
85
60
12
9.5
5
0.96
CLHS0.15
150KW
85
60
13.3
10.8
7
1
CLHS0.21
210KW
85
60
25.5
19.2
9.3
1.2
CLHS0.35
350KW
85
60
41.5
34.3
15
1.7
LHS0.49
490KW
95
70
64.5
49.5
22
2
LHS0.7
700KW
95
70
84
65
28
2.6
Inquiry
Please feel free to submit your inquiry information to us. We will contact with you as soon as possible