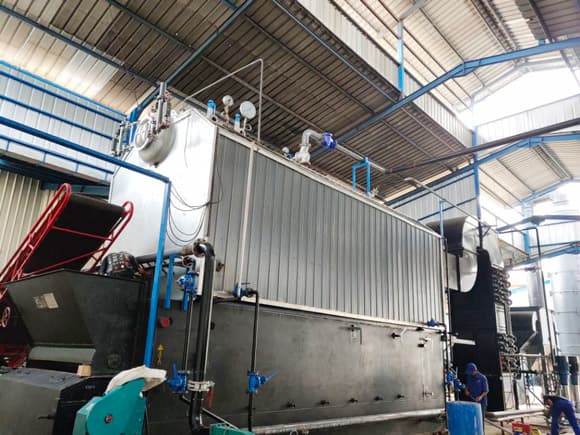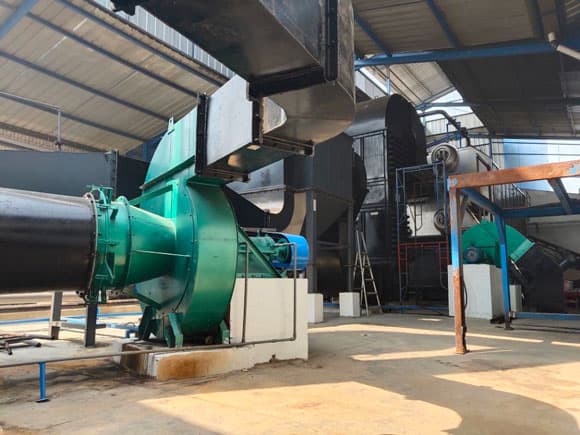 Water Tube Boiler
Capacity:1t/h-50t/h
Pressure:0.1Mpa-3.8Mpa
Fuel:Coal, biomass, wood, waste fabric, shells, husk, jute, etc.
Industry:Foods, Garment, Textile, Paper, Brewery, Ricemill, Printing & Dyeing, Poultry feed, Sugar, Packaging, Plywood, Building material, Chemical, etc
Get price
Send Message
Introduction
Boiler Model: SZL water tube boiler, burning coal/wood/biomass waste
SZL water tube coal boiler is package shop-assembled water tube boiler with double steam drums and chain grate stoker structure. 2-8 tph boiler is package boiler and 8-35 tph is shop-assembled structure, which is composed of 2 parts, upper part is heat absorbing surface and lower part is combustion equipment. SZL water tube boiler has wide fuel adaptability, wide range fule including coal, biomass, wood chips, ricehusk, pellets, shells, straw, bagasse, palm oil shell, solidetc.
Our boiler system equipment including grate, boiler body, economizer, dust collector, flue, air duct, induced draft fan, blower, slag remover, loading machine, water pump, deaerator, etc.
Kinds of boiler grate: Chain grate, Travelling grate, Reciprocating step grate, Dumping grate, Fixed grate...

SZL boiler technical advantages
1. By adopting the water-cooling system in packaged boilers which is usually used in power plant boilers, the boiler can achieve large heat transfer area, high heat transfer efficiency, low heat loss, good air tightness, and no distortion or dust leakage of the brickwork.
2. The front and back water-cooling wall tubes stretch themselves to the upper side of the chain grate, which increases the heating surface and overload capacity. The frames of the front and the rear arch are made of water-cooling tube wall, together with high-alumina cement, which can avoid the defects of the cracking and collapsing of the arch and extend its lifespan.
3. The distance between the front shaft and the rear shaft of the grate stoker is longer than other similar type domestic products. In this way, the combustion time of the fuel in the furnace is extended and the fuel combustion is more sufficient and the carbon content in the slag is decreased. Meanwhile, the actual heating surface of the grate is increased and the overload capacity is remarkably enhanced.
4. There are six independent wind chambers arranged lengthways and each chamber has an independent air adjuster, which can respectively adjust the air volume in each chamber so as to achieve the best combustion effect.

Other---water tube boiler:
1. Vertical water tube boiler, 0.3-2Ton/hr solid waste fired boiler, vertical type structure with small capacity, coal/wood boiler 300kg 500kg 1000kg 2000kg.
2. SZS water tube boiler, 8-40ton/hr gas/oil fired boiler, adopts double drums "D-type" vertical arrangement, full-membrane wall structure, reasonable and compact layout, realize large-capacity boiler overall quick installation, less investment in boiler house infrasturcture and short installation period.


More
Global Service For Industrial Boilers
1. Choose boiler: There are more various boiler model for choose, inquire one you prefer.
2. Technical discussion: Offer professional boiler system solution for your company use.
3. Factory visit: Warmly welcome all customers come to visit the production base
4. Global service: After sale service, arrange engineer for boiler installation, training operators.
5. Whole life service for boiler consult, contact us whenever.
Inquire now: Known about boiler requirements for your projects, Email us at any time: shirley@yuanda-boiler.com


Parameter
SZL Series Steam Boiler Technical Parameter Table
Model
Rated capacity(t/h)
Rated pressure (Mpa)
Rated steam temperature(℃)
feed temperature(℃)
Thermal efficiency(%)
Boiler water volume(m³)
Exhaust temperation(℃)
Fuel comsumption(Kg/h)
max transportation weigh(t)
SZL2
2
1.25/1.6/2.5/3.82
194/204/226/450
20/104
>83.13
6.76
130.7
385.8
22
SZL4
4
1.25/1.6/2.5/3.82
194/204/226/450
20/104
>84.23
5.1
142
807
29
SZL6
6
1.25/1.6/2.5/3.82
194/204/226/450
20/104
>84.81
8.4
142
1209
34
SZL8
8
1.25/1.6/2.5/3.82
194/204/226/450
20/104
>85.02
9.4
149.1
1563.9
40.5
SZL10
10
1.25/1.6/2.5/3.82
194/204/226/450
20/104
>86.2
8.35
152.7
2149.3
24
SZL12
12
1.25/1.6/2.5/3.82
194/204/226/450
20/104
>86.56
12.8
148.7
2399.7
37
SZL15
15
1.25/1.6/2.5/3.82
194/204/226/450
20/104
>86.29
15.2
149.8
2568.4
24.7
SZL20
20
1.25/1.6/2.5/3.82
194/204/226/450
20/104
>86.8
15.5
147.4
4266.9
26
Note: Parameter is for reference only, if any changes should follow the factory technical data.
Inquiry
Please feel free to submit your inquiry information to us. We will contact with you as soon as possible
Copyright © Henan Yuanda Boiler Corporation Ltd. All Rights Reserved Site Index Product Index