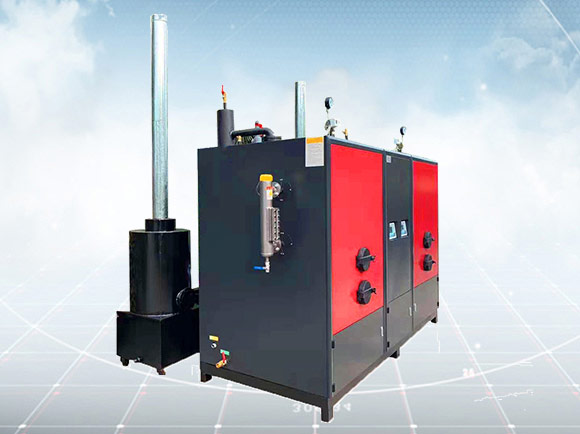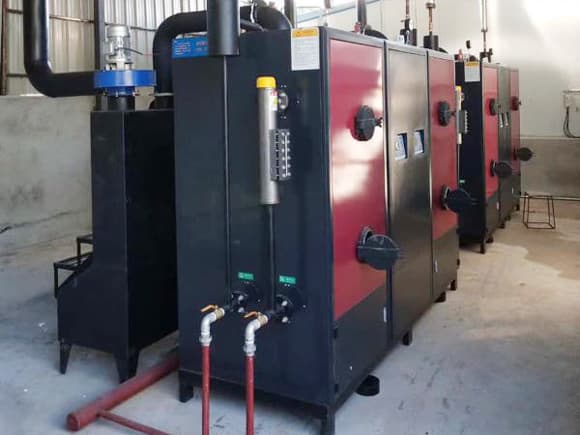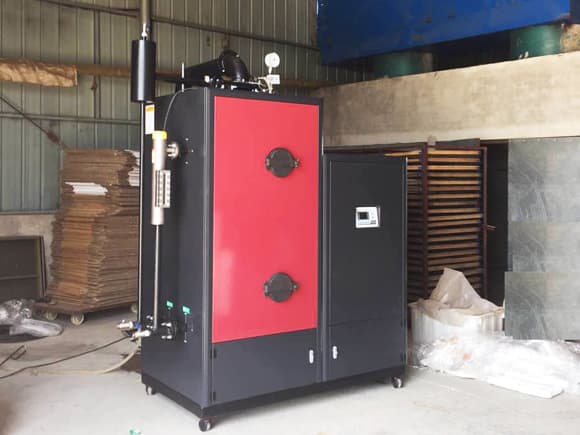 Biomass/Wood Pellets Steam Generator Boiler
Capacity:50kg-1000kg; 35kw-700kw
Pressure:0-3.8Mpa; 0-38Bar
Fuel:Biomass pellets, wood pellets
Heating medium:Steam, hot water
Functions:Work for process in disinfection, drying, cooking, and heating etc
Get price
Send Message
Introduction
Wood Biomass Pellets Steam Generator

---
1. Biomass steam generator is also known as steam boiler or steam heating boiler. It is biomaterial fuel fired boiler.
2. The steam geneator is vertical structure. With features: compact structure, small size, low noise, large heating area, high thermal efficiency, strong integrity, good stability, movable type, able to connect with soft or hard pipes, easy to install etc.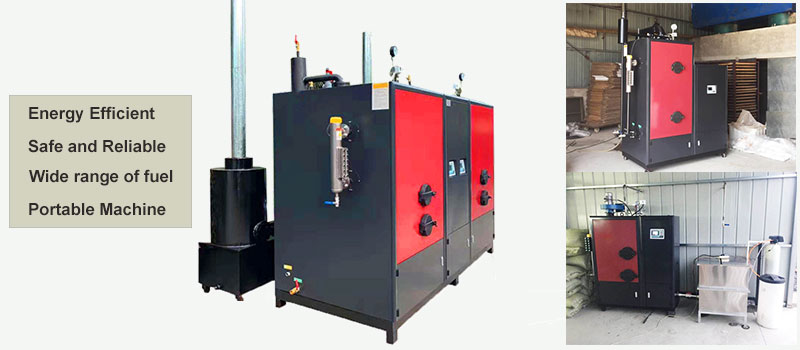 Advantages Biomass Steam Generator

1. Energy Efficient
Adopt advanced positive pressure combustion method. It has unique primary air heating and secondary air combustion configuration. It can completely burn off the biomass particle. The boiler has multi-return arrangement, compact structure, adequate heating surface, and can boost, outlet the steam fast; the furnace uses the new refractory materials, supplemental firing, and extend the service life of the boiler. It is the newest Environmental protection and energy saving products.
2. Safe and Reliable
Boiler has the automatic microcomputer system, automatic control of boiler operation, owning overpressure protection and water scarcity functions. , biomass feed system uses rotary inclined into the material design concept, completely eliminate the phenomena of biomass fuel combustion back draft, thereby really achieve the double insurance that body control the security and safety of the combustion control system.
3. Wide range of fuel
Biomass materials for combustion can use local materials. Solid biomass fuels uses woods, branches, saw dust, top woods, skins and butts, husk, straw, rice straw, manure and other waste products through mechanical processing a particulate with regular shape, rod or block fuel. The advantage of it is low cost and wide range of sources.
4. Durable
Careful design, superior materials and it using high technology to elaborate, with excellent corrosion resistance, durability and ruggedness.
Applications Steam Generator
1. Biomass pellet steam generator is widely used in garment factories, dry cleaners, hotels, canteens, restaurants, mines, bean products factory, plating heating, chemical processing, food processing, schools, hospitals, hotels, restaurants, etc. and other places.
2. It is also used in health care, bio-pharmaceutical industry, food industry and other places where need to sterilize apparatus and other stuff etc. It has functions of disinfection, drying, cooking, and heating etc.
Related Biomass/Wood Pellets Boiler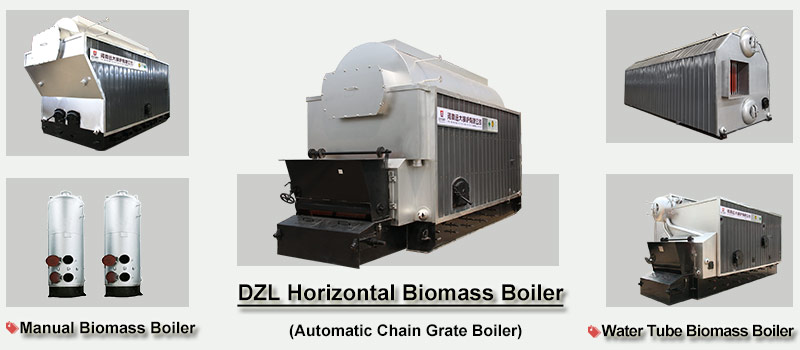 Our Service
Why Choose Us ?
1. We offer all kinds of boiler machine, customized service for customers' demand, send your specific details to us.
2. 60+Years' experience in boiler design, technique, production, installation and operation. 10+Years export boiler experience.
3. Global service team for boiler solution, boiler design, order contract, boiler delivery, boiler install and commissioning.
Global Boiler Service
1. Offer catalogue, various boiler model for choose, inquire one you prefer.
2. Technical discussion on boiler system solution for your company use.
3. Warmly welcome all customers come to visit the production base
4. Trustable after sale service, for boiler installation, training operators.
5. Whole life service for boiler consult, contact us whenever.
6. Yuanda products have covered all provinces and cities of China and have been exported to 90 countries and regions such as Bangladesh, Nigeria, Chile, Russia, etc. More than 8000+ boiler projects worldwide !
Parameter
Wood/Biomass steam generator/boiler parameter

Product model
Unit

LSG0.08-0.7
LSG0.12-0.7
LSG0.23-0.7
LSG0.30-0.7
LSG0.50-0.7
LSG1.0-0.7
Rated evaporation
T/H
0.08
0.12
0.23
0.3
0.5
1
Rated steam pressure
Mpa
0.7
0.7
0.7
0.7
0.7
0.7
Saturated steam temperature
ºC
170
170
170
170
170
170
Ignition mode

Automatic

Combustion mode

Negative pressure backburning
Thermal efficiency
%
≥93
≥93
≥93
≥93
≥93
≥93
Water capacity
L
29.5
29.5
29.5
47.5
29.5+29.5
29.5+29.5
Fuel consumption
Kg/H
12
17
33
50
75
150
Silo capacity
Kg
60
100
180
200
280
480
Shape size
MM
1300×470×1360
1410×580×1810
1650x1000x2300
2100×1100×2550
3150×1000×2300
3700×1200×2440
Transport weight
Kg
375
508
910
1200
1600
3000
Main Steam Valve Caliber
DN
20
20
25
25
25
25
Safety valve caliber
DN
15
15
40
40
40
40
Feedwater Valve Caliber
DN
15
15
15
15
15
20
Smoke discharge caliber
DN
114
114
159
159
219
219
Discharge valve caliber
DN
25
25
25
25
25
25
Applicable power supply

220V 50HZ
220V 50HZ
220V 50HZ
220V 50HZ
220V 50HZ
220V 50HZ
Remarks
This product is in the process of continuous improvement. The above parameters may change. Specifically, they are based on physical objects. We apologize for the inconvenience caused to you.

Calorific value of biomass particles: 4000Kcal/KG
Inquiry
Please feel free to submit your inquiry information to us. We will contact with you as soon as possible
Copyright © Henan Yuanda Boiler Corporation Ltd. All Rights Reserved Site Index Product Index