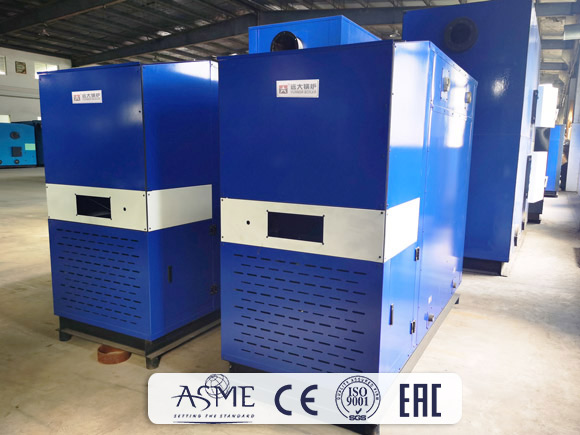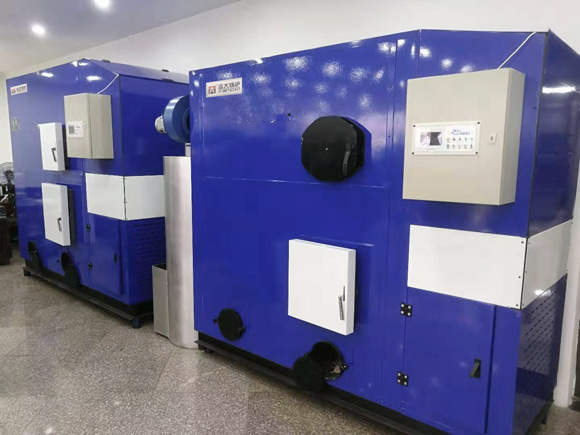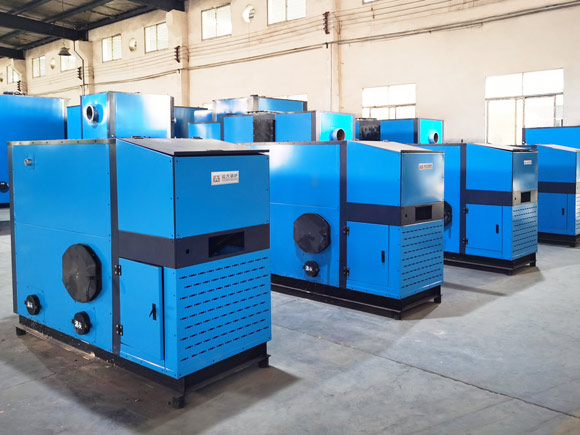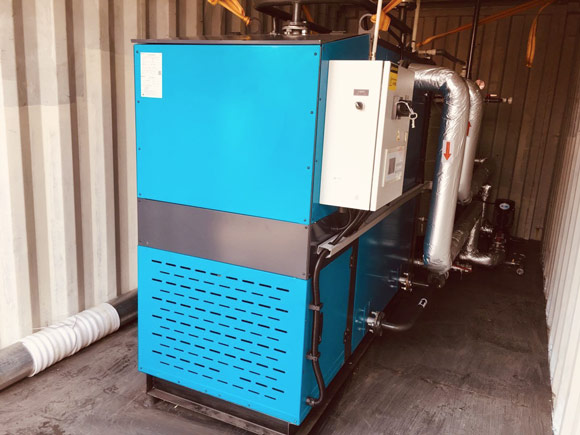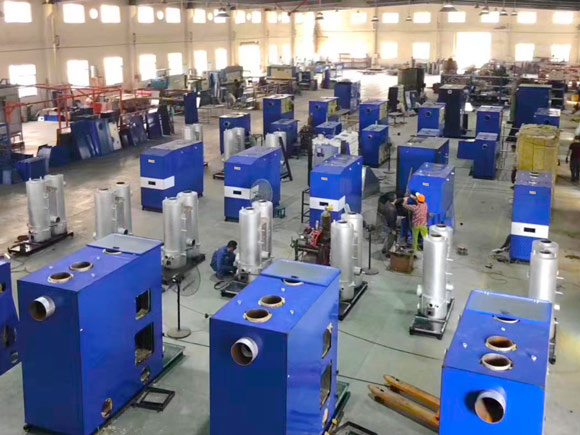 Biomass Pellets Boiler
Capacity:100kg-10000kg; 70kw-7000kw
Pressure:0-3.8Mpa; 0-38Bar
Fuel:Biomass pellets, wood pellets, wood chips, sawdust, biomasswaste
Usage:Generating steam supply heat energy for heating, drying, etc
Brif Intro:Fully automatic biomass steam generator boiler, modular integrated type water-tube fire-tube heating steam generator.
Get price
Send Message
Introduction
Biomass Pellets Boiler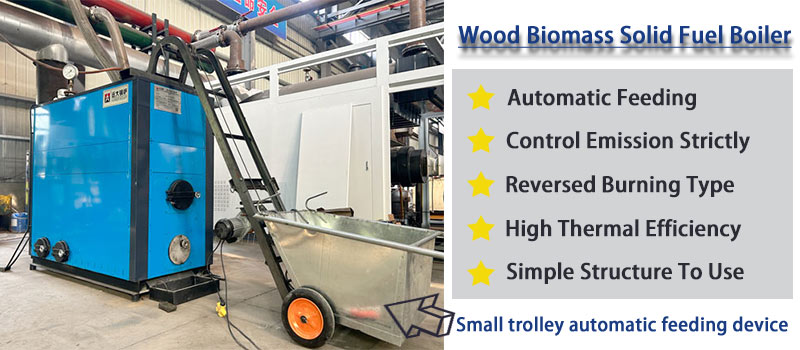 ---
100kg-10000kg 70kw-7000kw Boilers
Wood/biomass pellet steam generator boiler, inner water-tuube & fire-tube heating, compact structure, small size, low noise, high thermal efficiency, modular integrity, good stability, movable type, able to connect with soft or hard pipes, easy to install etc.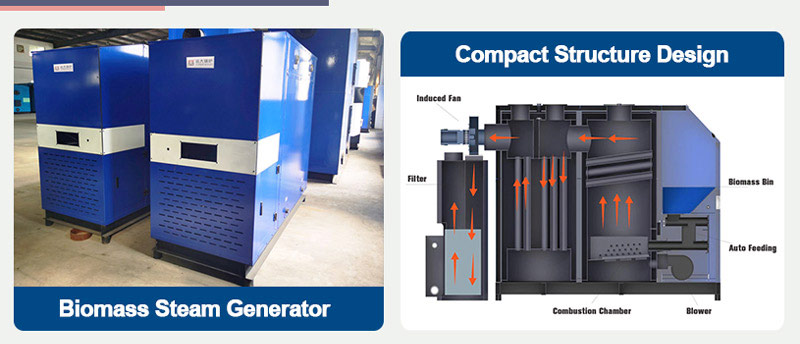 Advantages Automatic Pellets Boiler
1. Energy Saving
Compared to expensive electricity power, biomass energy will help saving cost, with a low biomass consumption cost.
2. Efficienct Heat Exchange
Inner structure using water-tube & fire-tube transferring heat, thermal efficiency up tp 85%.
3. Flexible Assembly
Cause its small size appearance, available for nearby installation, it will help save little heat loss in pipelines.
4. Easy Into Use
It don't need set a boiler room, simple to install, one-botton start up/off, automatic ignition, auto-control system.
5. Intelligent Control
Automatic control system for work-pressure, water-level, biomass fuel feeding, combustion stage.
6. Modular Integrated Design
Compact structure, beauty appareance, light weight, available to move everywhere.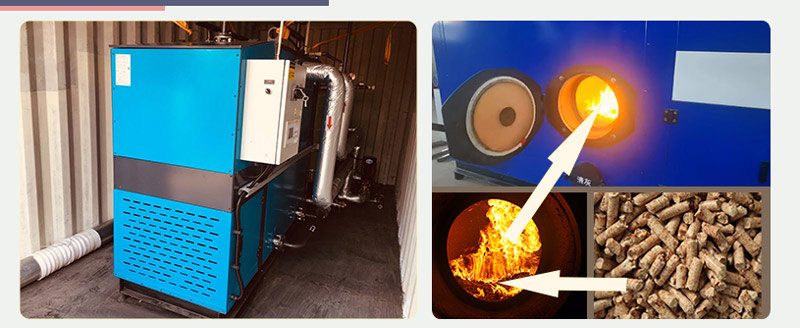 Customized Portable Mobile Type
Support customized service. CASE: Hungary 200SETS Biomass Boiler For Central Heating.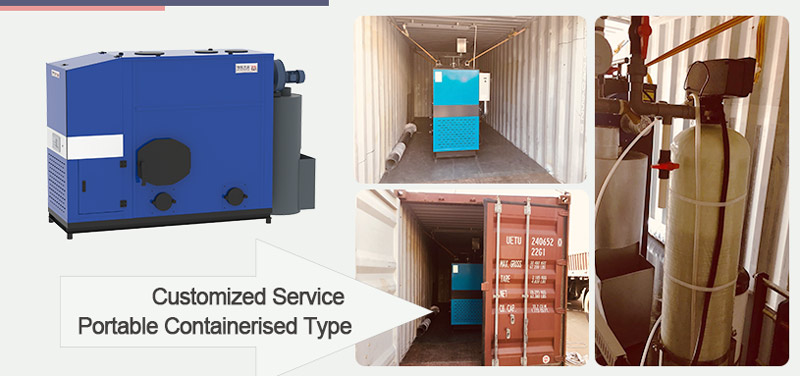 ---
Related Biomass Chain Grate Boiler
Automatic Chain Grate Boiler, Burning biomas/wood pellets. 1ton-30ton/hr thermal capacity boiler.
Link: https://www.yd-boiler.com/products/biomass-boiler/dz-series-biomass-boiler.html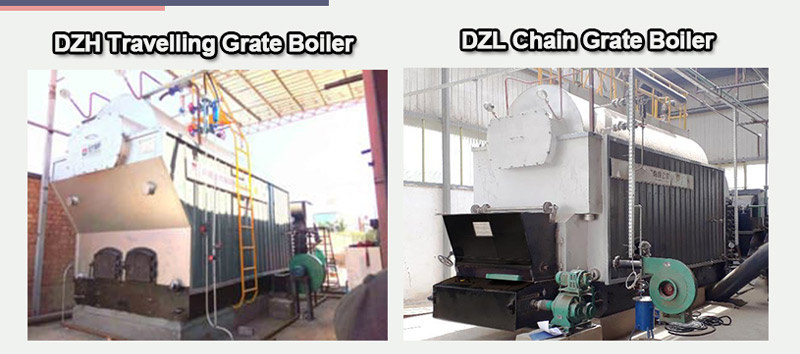 Related Fire Tube Biomass Boiler
Automatic biomass fire tube boiler, special design boiler with external burner. Biomass burner supply heat energy to fire tube boiler, three pass design boiler with higher heat efficiency, help saving energy.
Link: Link: https://www.yd-boiler.com/products/biomass-boiler/biomass-burner-boiler.html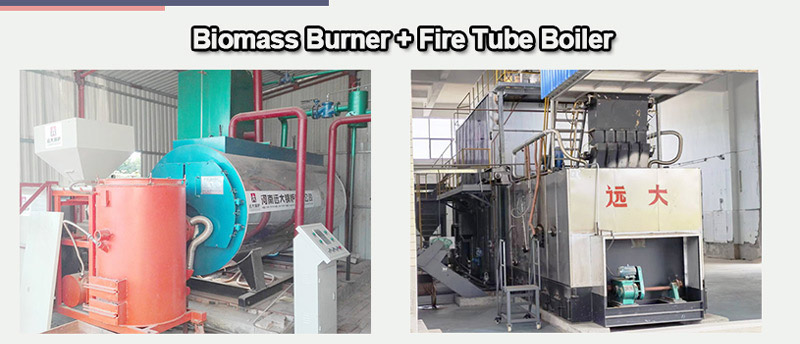 Global Sales
Catalogue All Products
1. Gas boiler, Lpg boiler, Diesel boiler, Heavy oil boiler, Dual fuel boiler, Exhaust gas waste heat recovery boiler
2. Coal boiler, Charcoal boiler, Wood boiler, Biomass boiler, Pellet boiler, Ricehusk boiler, Palm shells boiler
3. Electric boiler, Electric steam generator, Electric hot water boiler,
4. Thermal Oil Heater Boiler, Thermic Fluid Heater, Hot Oil Boiler. (Powered by gas, diesel, electric, coal, wood biomass)
5. Steam Boiler, Hot Water Boiler, Steam Generator Boiler, Combined Heat and Power Boiler, Superheated Steam Boiler

About us Yuanda Boiler
1. All products Certified With ASME, CE, ISO, EAC, DOSH, TUV, BUV, Ensuring High Quality and Compliance with International Standards.
2. Our company established since 1956, over 65 years manufactureing experiences, 15 Years export experience.
3. Global service team for boiler solution, boiler design, order contract, boiler delivery, boiler install and commissioning.
4. Until now, our products have been exported to 103 countries all over the world, trustable quality & services for lifespan.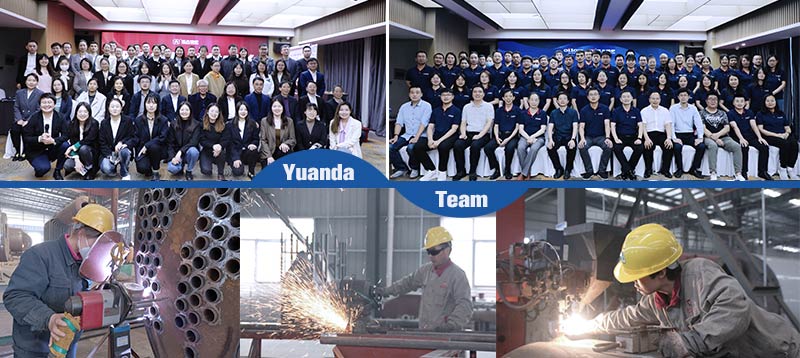 Parameter
Technical Parameter Sheet of Biomass Steam Generator
Model
LSS-0.12-0.6
LSS-0.15-0.6
LSS-0.2-0.7
LSS-0.3-0.7
LSS-0.5-0.7
LSS-0.75-0.7
LSS-1.0-0.7
Rated steam capacity(Kg/h)
120
150
200
300
500
750
1000
Rated working pressure(Mpa)
0.6
0.6
0.6
0.7
0.7
0.7
0.7
Induced

fan

power(W)
250
370
550
550
750
2200
4000
Fd

fan

power(W)
85
120
120
330
500
500

500×

2

Feeding motor power(W)
250
250
250
250
250
250
250
Pump power(w)
750
750
750
1100
1500
2200
2200
Power consumption(KW/h)
1.34
1.49
1.67
2.23
3
5.15
7.45
Thermal efficiency(%)
85
85
85
85
85
85
85
Fuel consumption(Kg/h)
17
22
29
43
58
108
158
Safety valve(Mpa)
0.58
0.58
0.58
0.68
0.68
0.68
0.68
Overall dimensions(mm)
1700×650×1550
1700×700×1650
1850×750×1700
2000×1320×1800
2470×1480×1940
1860×1350×2200
2100×1650×2750
Dust

collector(mm)
Φ520×1350

Φ55

0×

1455

Φ550×1455
Built in dedusting
Built in dedusting
Φ755×2000
Φ755×2000
Shipping

weight(kg)
728
880
980
1480
2000
2500
2900
Remarks
This product is in the process of continuous improvement. The above parameters may change. Specifically, they are based on physical objects. We apologize for the inconvenience caused to you.

Calorific value of biomass particles: 4000Kcal/KG
Inquiry
Please feel free to submit your inquiry information to us. We will contact with you as soon as possible