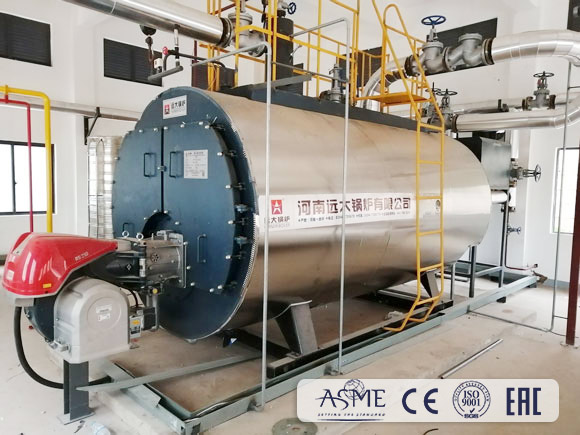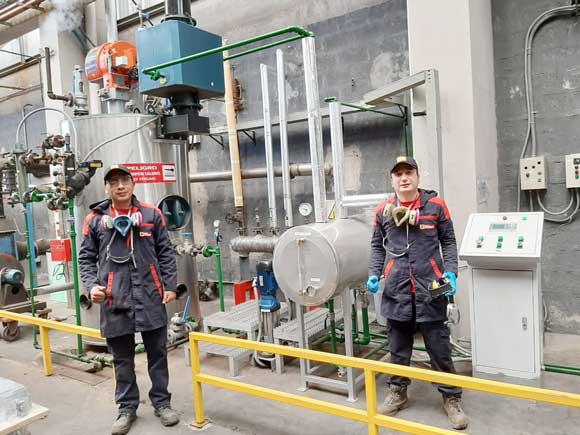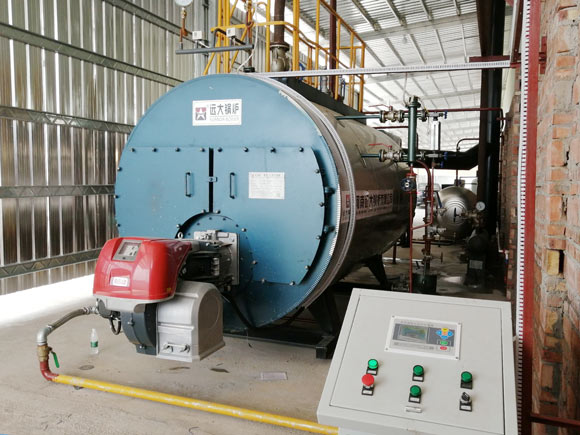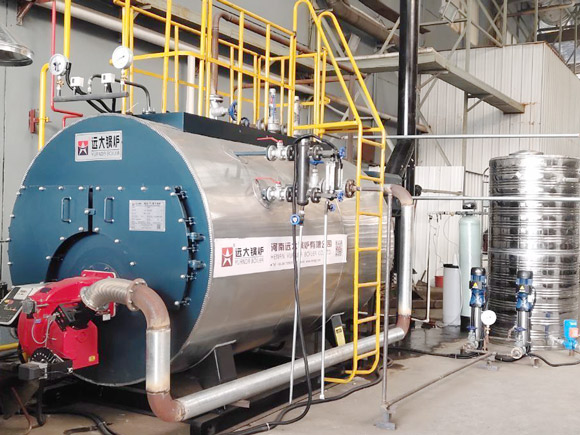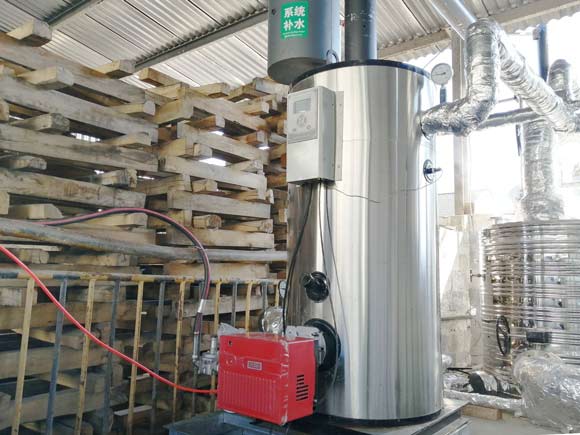 Bunker-fuel/Heavy-oil/Diesel Boiler
Capacity:0.1-50t/h, 100-35000kw
Horsepower:6hp-3000hp(bhp)
Pressure:0-3.8Mpa; 0-38Bar
Fuel:Diesel, heavy oil, waste oil, furnace oil, dual fuel
Kinds of Heater Boilers:Oil steam boiler, Oil Water Heater Boiler, Hot oil heater boiler; Horizontal oil boiler, Vertical oil boiler.
Get price
Send Message
Introduction
Oil Fired Boiler
"Automatic" "Eco-friendly" "Easy Install" "Easy Operate" "High Efficiency"
---
Hot Sell

Fire Tube Oil Boiler



Thermal capacity: 0.5ton-50ton, 350kw-35000kw, 30hp-3000hp(bhp)
WNS gas oil boiler, it's the most popular eco-friendly industrial boiler. Horizontal three pass design fire tube boiler with wet back structure. Fully automatic control system make it easier to operation and monitor boiler system. ensure safety 100%.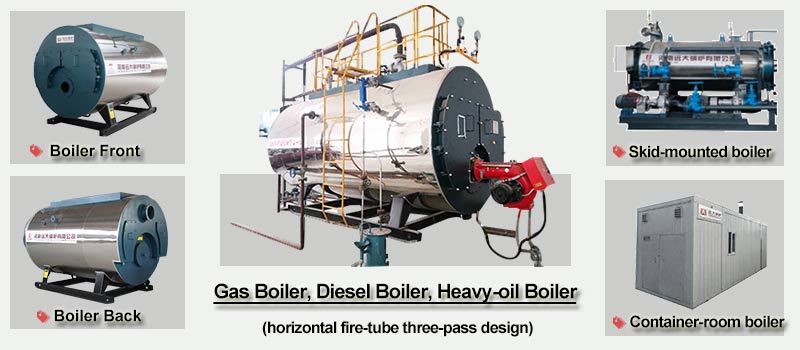 Advantages
WNS boiler features
1. 100% Safety Control Boiler & Strict Boiler Quality Control
1)All welding strictly meet the requirements of China NB/T 47014(JB/T 4708)
2)Anti Dry Heating Control System with double safety valves, double water level gauges, double secure of safe operation
3)With explosion-proof door with fire viewer, If burner failure ignition, this door can release the pressure out, protect the damage to welding parts
2. Energy Saving & High Efficiency
1)Spiral fire tube, the advanced technology, to enhance the boiler thermal power 10-15% higher than normal, and avoid the spiral tube from ash deposition and wearing
2)Spirally corrugated furnace & Wet back structure, increased 10% heating area, avoid damaged by heat expansion, reduce the back tube sheet temperature and protect it from cracking
3. High Quality Steam-Wetness Below 1%
1) We equip a steam separation under the steam output port.
2)With continuous water feed function,Make the water level is stable instead of big differences
3)Bigger water tank design, boiler with bigger water volume and bigger steam space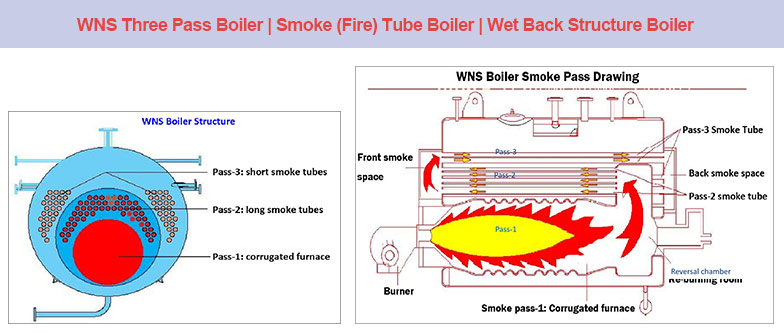 Hot Sell

Small Diesel Oil Boiler



Small oil fired boiler, hot sell : vertical diesel boiler, small steam boiler, small thermal oil boiler.
Vertical diesel steam boiler, suitable for steam demand in 100-2000kg/hour. The boiler has advantages of low cost, smaller area occupied, and quick steam generation.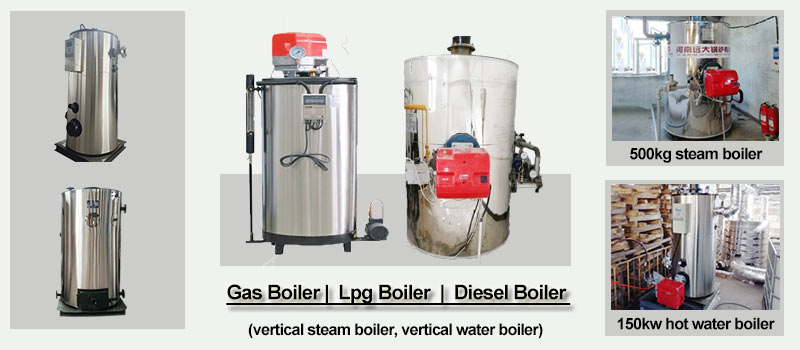 Hot Sell Thermal Oil Heater Boiler

Diesel fired thermal oil boiler, is thermal oil heating system, widely for heating oil tanks, textile, plywood, food industry...
Heater boiler in horizontal or vertical. Inner compact coil structure & high thermal efficiency & automatic control system.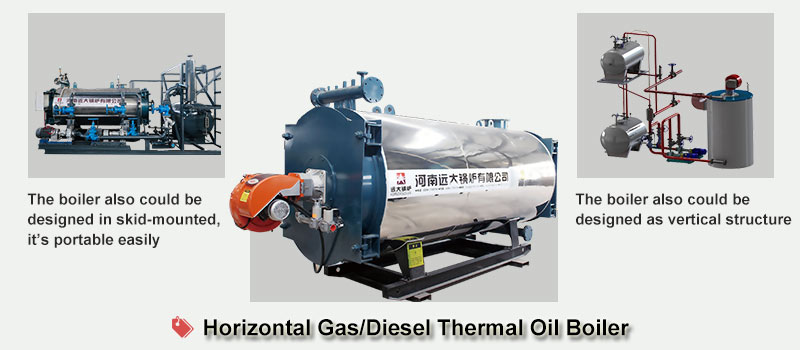 About
Catalogue All Products
1. Gas boiler, Lpg boiler, Diesel boiler, Heavy oil boiler, Dual fuel boiler, Exhaust gas waste heat recovery boiler
2. Coal boiler, Charcoal boiler, Wood boiler, Biomass boiler, Pellet boiler, Ricehusk boiler, Palm shells boiler
3. Electric boiler, Electric steam generator, Electric hot water boiler,
4. Thermal Oil Heater Boiler, Thermic Fluid Heater, Hot Oil Boiler. (Powered by gas, diesel, electric, coal, wood biomass)
5. Steam Boiler, Hot Water Boiler, Steam Generator Boiler, Combined Heat and Power Boiler, Superheated Steam Boiler

About us Yuanda Boiler
1. All products Certified With ASME, CE, ISO, EAC, DOSH, TUV, BUV, Ensuring High Quality and Compliance with International Standards.
2. Our company established since 1956, over 65 years manufactureing experiences, 15 Years export experience.
3. Global service team for boiler solution, boiler design, order contract, boiler delivery, boiler install and commissioning.
4. Until now, our products have been exported to 103 countries all over the world, trustable quality & services for lifespan.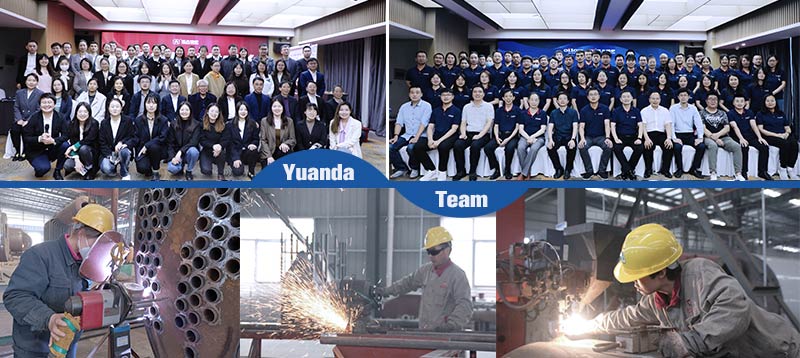 Parameter
Model
Rated capacity(t/h)
Rated pressure (Mpa)
Rated temperature(℃)
feed temperature(℃)
Thermal efficiency(%)
Exhaust temperation(℃)
Fuel comsumption
max transportation weigh(t)
light diesel oil(kg/h)
natural gas(Nm³/h)
WNS0.5
0.5
1.0/1.25/1.6
184/194/204
20/104
>98
60-75
32.5
35.7
3.5
WNS1
1
1.0/1.25/1.6
184/194/204
20/104
>98
60-75
64.5
70.1
5.5
WNS2
2
1.0/1.25/1.6
184/194/204
20/104
>98
60-75
129.3
140.3
8
WNS3
3
1.0/1.25/1.6
184/194/204
20/104
>98
60-75
192.9
212.1
10.7
WNS4
4
1.0/1.25/1.6
184/194/204
20/104
>98
60-75
258.2
283.4
11.6
WNS6
6
1.0/1.25/1.6
184/194/204
20/104
>98
60-75
388.6
424.2
17.5
WNS8
8
1.0/1.25/1.6/2.5
184/194/204/226
20/104
>98
60-75
514.6
566.3
22.5
WNS10
10
1.0/1.25/1.6/2.5
184/194/204/226
20/104
>98
60-75
641.7
707.8
26.8
WNS15
15
1.0/1.25/1.6/2.5
184/194/204/226
20/104
>98
60-75
960.1
1061.7
35.2
WNS20
20
1.0/1.25/1.6/2.5
184/194/204/226
20/104
>98
60-75
1276.2
1415.8
45.5
Note: Parameter is for reference only, if any changes should follow the factory technical data.
Inquiry
Please feel free to submit your inquiry information to us. We will contact with you as soon as possible