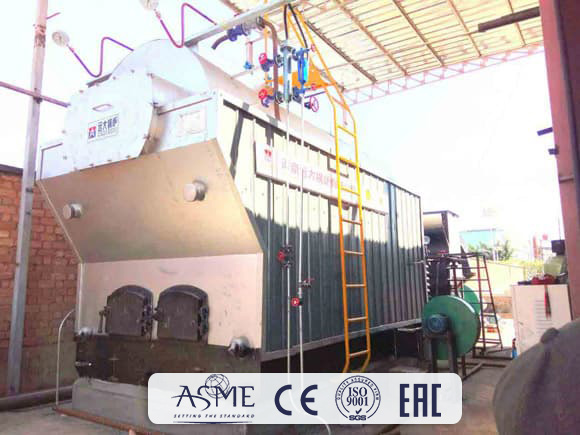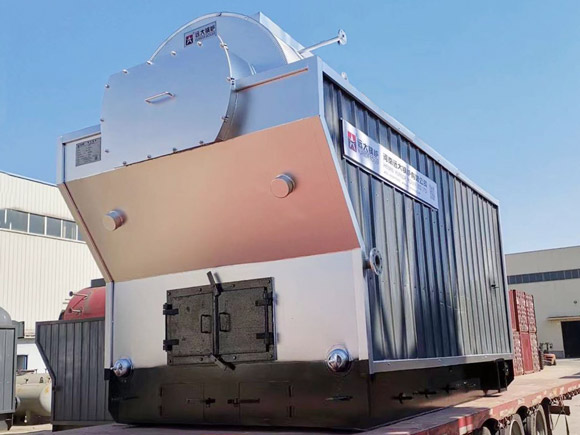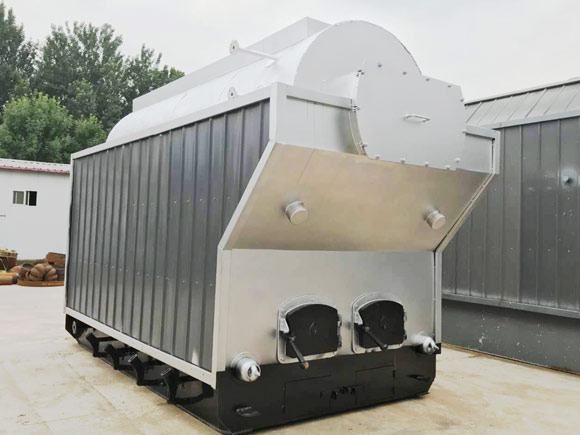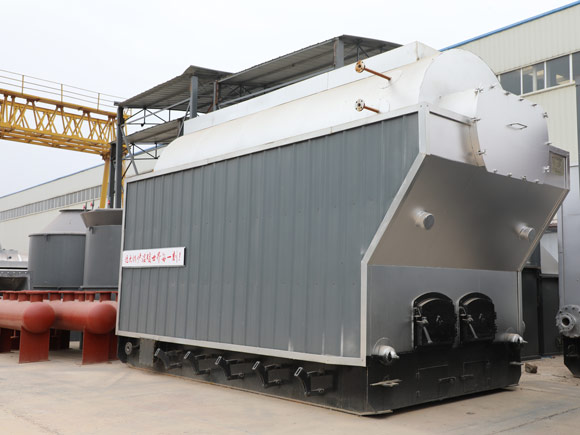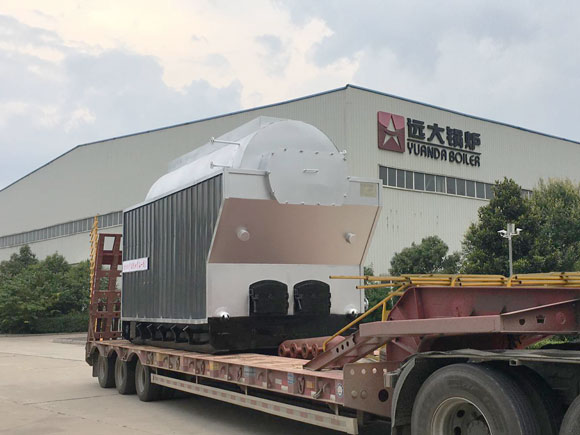 DZH Manual Coal/Wood Boiler
Capacity:1-80ton/hr | 0.7mw-56mw
Horsepower:10hp-5000hp(bhp)
Pressure:0.1Mpa-3.8Mpa
Fuel:Coal, biomass fuel, wood, logs, chips, husk, shells, solid waste
Features:Boiler burning wood, coal, biomass, charcoal, briquette, husk, shells, solid waste...
Get price
Send Message
Introduction
DZH series coal boiler, it is horizontal three-pass water-tube & fire-tube boiler. DZH use travelling grate combustion stoker for coal combustion. It has advantages of long life span 20year+, easy operation.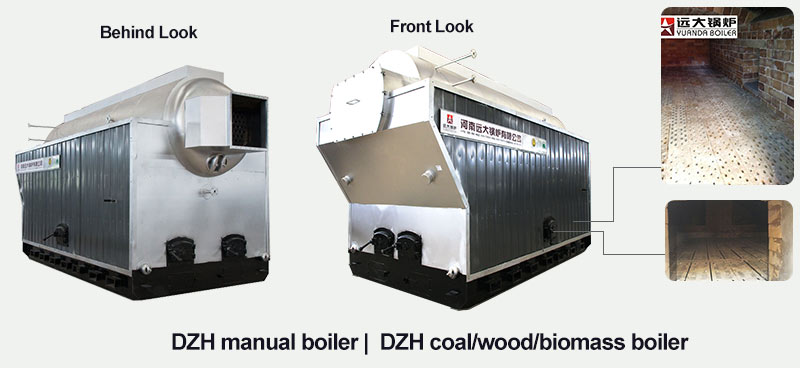 DZH Coal Boiler Features
1. It could burn coal, charcoal, briquette, biomass, wood, ricehusk, palm shells
2. Water-tube and fire tube use spairally corrugated tubes, enhance heat transferring
3. Furnace arch with upside down "α" flue gas flow, make coal/biomass burning sufficiently
4. Set steam-water separaing equipment, has high-quality & sufficient steam output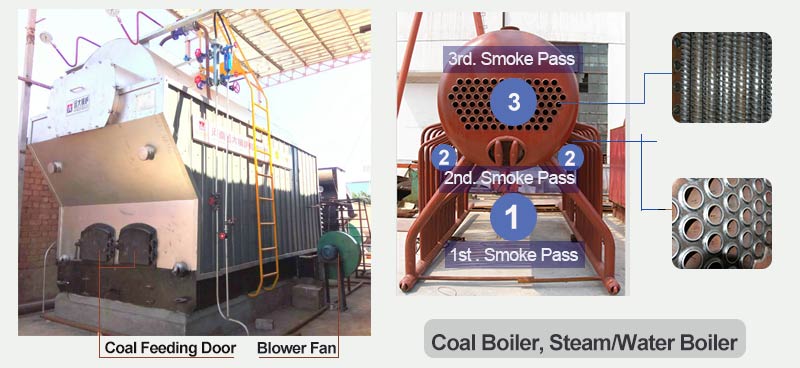 DZH Boiler Advantages
1. Easy Installation
Fast-assembly leave from factory, easy to transport and install at site.
2. Full Combustion
Reasonable design of furnace structure with best suitable grate device, fuel fired fully.
3. High Security
Equip with water lack protection and over pressure protection devices, security and reliable.
4. Long Life and Durable
Advanced production processes, strict quality inspection, boiler life span above 20 years.
Projects Site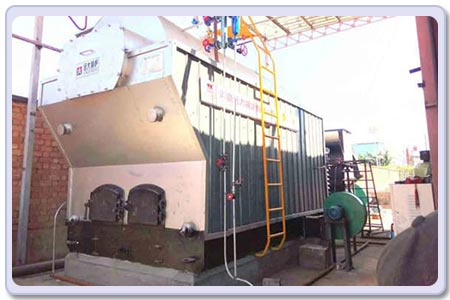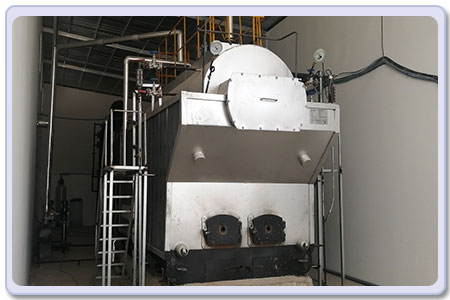 You may like
1. Vertical water tubes boiler hetaing capacity in 100kg-1000kg, easy installation and operation.
2. DZL chain grate boiler with automatic feeding system, most-popular boiler model for customers.
3. SZL double drums "D" type wood boiler, in capacity 2-20tons, large stove design.
4. SZL double drums "A" type boiler, specially furnace design, water tube boiler for industrial production.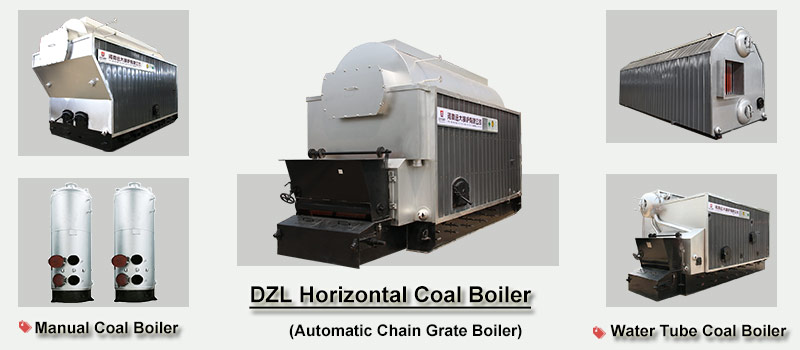 Catalogue All Products
1. Gas boiler, Lpg boiler, Diesel boiler, Heavy oil boiler, Dual fuel boiler, Exhaust gas waste heat recovery boiler
2. Coal boiler, Charcoal boiler, Wood boiler, Biomass boiler, Pellet boiler, Ricehusk boiler, Palm shells boiler
3. Electric boiler, Electric steam generator, Electric hot water boiler,
4. Thermal Oil Heater Boiler, Thermic Fluid Heater, Hot Oil Boiler. (Powered by gas, diesel, electric, coal, wood biomass)
5. Steam Boiler, Hot Water Boiler, Steam Generator Boiler, Combined Heat and Power Boiler, Superheated Steam Boiler

About us Yuanda Boiler
1. All products Certified With ASME, CE, ISO, EAC, DOSH, TUV, BUV, Ensuring High Quality and Compliance with International Standards.
2. Our company established since 1956, over 65 years manufactureing experiences, 15 Years export experience.
3. Global service team for boiler solution, boiler design, order contract, boiler delivery, boiler install and commissioning.
4. Until now, our products have been exported to 103 countries all over the world, trustable quality & services for lifespan.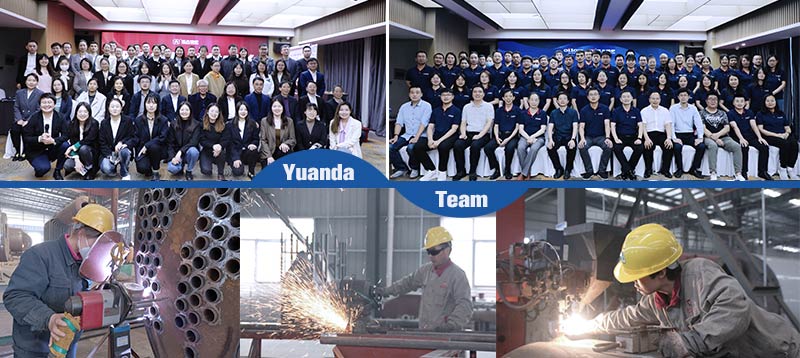 Global Boiler Service
1. Offer catalogue, various boiler model for choose, inquire one you prefer.
2. Technical discussion on boiler system solution for your company use.
3. Warmly welcome all customers come to visit the production base
4. Trustable after sale service, for boiler installation, training operators.
5. Whole life service for boiler consult, contact us whenever.
Parameter
DZH Series Steam Boiler Technical Parameter Table
Model
Rated capacity(t/h)
Rated pressure (Mpa)
Rated steam temperature(℃)
feed temperature(℃)
Thermal efficiency(%)
Boiler water volume(m³)
Exhaust temperation(℃)
Fuel comsumption(Kg/h)
max transportation weigh(t)
DZH1
1
1.0/1.25/1.6
184/194/204
20/104
>82
3.15
127.25
192.32
9
DZL1
1
1.0/1.25/1.6
184/194/204
20/104
>82
3.15
113.34
190.42
13.5
DZH2
2
1.0/1.25/1.6
184/194/204
20/104
>82
4.75
126.41
386.47
15
DZL2
2
1.0/1.25/1.6
184/194/204
20/104
>82
4.77
106.34
393.77
22
DZH4
4
1.0/1.25/1.6
184/194/204
20/104
>82
7.7
137.25
782.29
18.5
DZL4
4
1.0/1.25/1.6/2.5
184/194/204/226
20/104
>82
8.2
124.49
756.89
27.6
DZH6
6
1.0/1.25/1.6/2.5
184/194/204/226
20/104
>82
7.4
146.83
1169.57
25
DZH6
6
1.0/1.25/1.6/2.5
184/194/204/226
20/104
>82
8.1
137.29
1148.68
35
DZH8
8
1.0/1.25/1.6/2.5
184/194/204/226
20/104
>82
9.6
141.06
1602.44
38
Note: Parameter is for reference only, if any changes should follow the factory technical data.
Inquiry
Please feel free to submit your inquiry information to us. We will contact with you as soon as possible