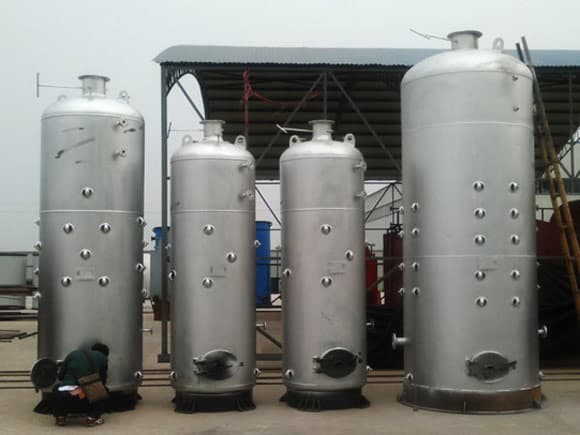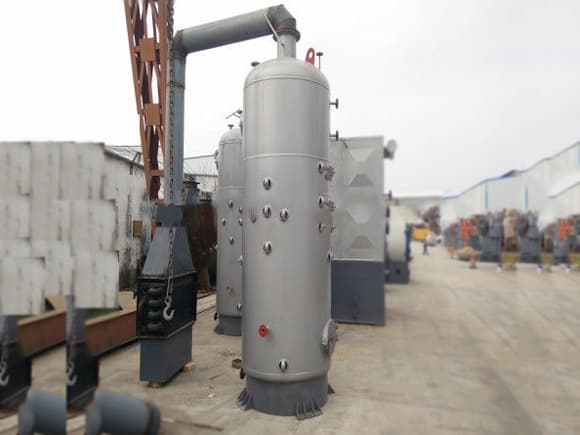 Vertical Coal/Wood Boiler
Model:LSG/LSH
Capacity:100kw-21,000kw
Type:Steam boiler, Hot water boiler
Fuel:Coal, wood, briquette, waste fabric, jhute, solid fuel, etc
Industry:Foods, Garment, Textile, Paper, Brewery, Ricemill, Printing & Dyeing, Poultry feed, Sugar, Packaging, Plywood, Building material, Chemical, etc
Get price
Send Message
Introduction
Boiler: steam boiler, hot water boiler, thermal oil boiler
Capcity: 100kg-50 000kg, 0.1t/h-50t/h
Vertical type boiler, adopt fire tube/water tube structure, coal/wood/solid material burning boiler.

Vertical boiler, thermal capacity in 100kw/200kw/300kw/350kw/500kw/600kw/700kw/1000kw per hour.
Vertical manual coal/wood fired steam boiler, the boiler body mainly made of U-circle, boiler drum, shell cover, furnace, horizontal water tube, vertical tube, convection tubes etc. pressure parts. Set manhole on shell cover, convenient for boiler maintenance and clean.

Features

1. Compact structure,easy to install, small footprint, small investment.
2. Exhaust gas passes through the force convection tube bundle, improving the efficiency of the boiler.
3. Multi-pass and multi-return, the dust can be removed naturally, boiler will work without induced draft fan.
4. Integrating with explosion gate, digital control system guarantee the boiler is safe.
5. the steam boiler produced steam can be used in the dining room of steamed rice, tableware disinfection, bath heating,steam production, local heating of the heating room, ect.
Quality Ensure

1. Strength calculation report with applied materials information.
2. Hydraulic test report: ensure the standard working pressure and safety.
3. 100%NDT(non-destructive inspection) report of steel plate, tube and welding rod.
4. 100% X-ray inspection report (welding seam): to ensure the quality of the entire boiler.
5. Third-party inspection report: by Zhoukou Institute of Special Equipment Inspection & Technical Research.
More
Boiler Application
For Heating/Drying/Steam turbine, widely used for industries such as Foods, Beverage, Juice, Milk production line, Textile, Paper, Animal feed mills, Garments, Ricemill, Dairy Products, Laundry, Poultry, Packaging, Oil refinery, Ediable oil, Plywood, Wood treatment, Building materials, Chemical, Hotel, Hospital, Greenhouse, Center heating, etc
Which kind boiler you need ?
① Steam boiler for heating & drying system in factory production...
② Hot water boiler for center heating/hotel/hosipital/greenhouse...
③ Thermic oil heating, for heating, dyeing machine, bitumen, food...
About Us---Yuanda Boiler
① Our boilers projcts have covered 88 Countries all over the world.
② Offer tailer-made boiler, make boiler solution for your project.
③ Global service for boiler insatll, guiding, training operators.
④ Reliable boiler quality, whole life service druing boiler operating.
④ Any other requirments, contact us by shirley@yuanda-boiler.com

Parameter
Model
Rated evaporation(T/H)
Rated pressure (Mpa)
Saturation temperature(℃)
Thermal efficiency(%)
Water capacity(L)
Fuel consumption(Kg/H)
power supply(V)
LSG0.08-0.7
0.08
0.7
170
≥90
29.5
12
220
LSG0.12-0.7
0.12
0.7
170
≥90
29.5
17
220
LSG0.16-0.7
0.16
0.7
170
≥90
29.5
25
220
LSG0.23-0.7
0.23
0.7
170
≥90
29.5
33
220
LSG0.30-0.7
0.3
0.7
170
≥90
47.5
50
220
LSG0.50-0.7
0.5
0.7
170
≥90
29.5
75
220
Note: Parameter is for reference only, if any changes should follow the factory technical data.
Inquiry
Please feel free to submit your inquiry information to us. We will contact with you as soon as possible
Copyright © Henan Yuanda Boiler Corporation Ltd. All Rights Reserved Site Index Product Index