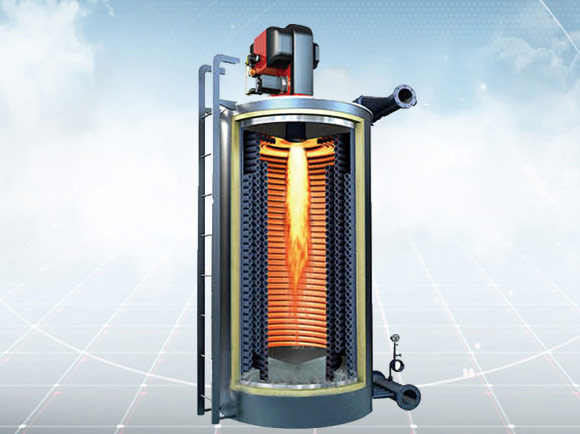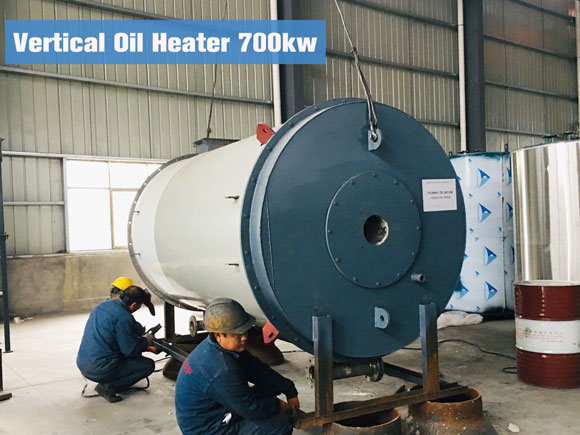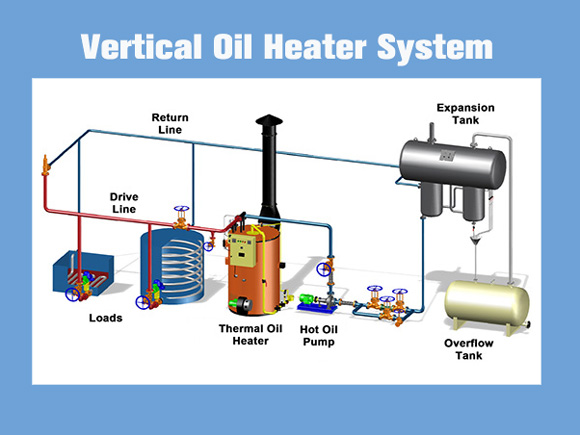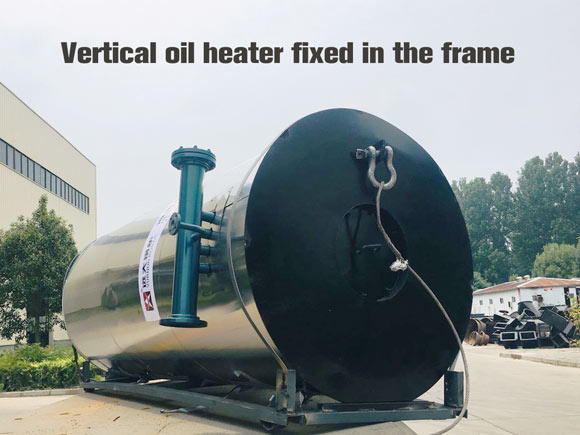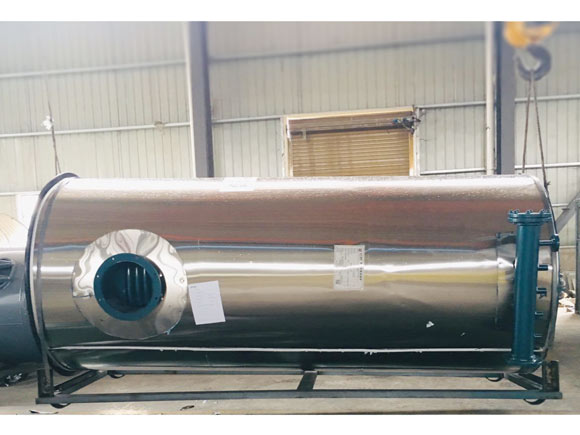 YQL Vertical Thermal Oil Heater
Capacity:100kw-14000kw
Heating Temperature:0°C-350°C
Fuel:Natural gas, diesel, heavy oil, waste exhaust gas, dual fuel...
Industry:Textile, Plastics, Rubber, Wood products, Building materials...
Features:Vertical three-coil oil heater / YGL gas thermal oil heater / Vertical oil heater boiler
Get price
Send Message
Introduction
Heating capacity:

200kw-14000kw thermal oil boiler

Thermal oil heater boiler, use transfer oil as medium, it is forced circulation oil system, heating oil under specific pressure, adopts horizontal chamber combustion three-coil structure, and its body is composed of outer oil, middle oil, inner oil and rear oil.

Thermal oil boiler, Widely used for refineries / bitumen / wood processing / printing and dyeing / building materials / food industry /heating oil tank.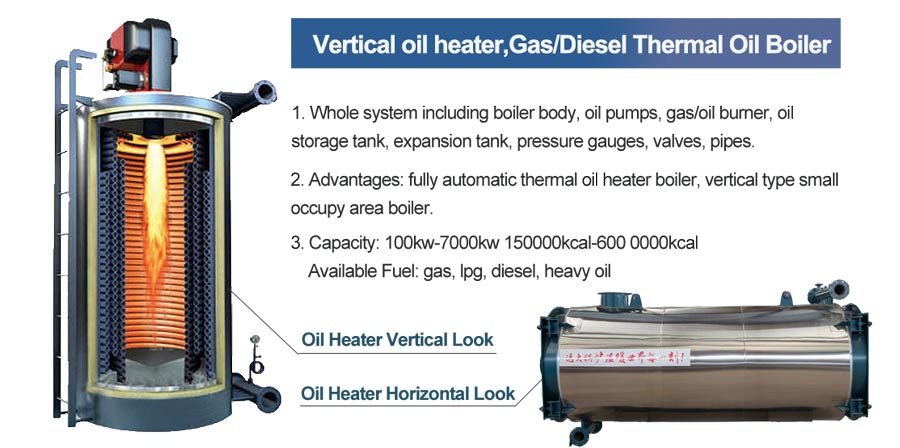 Recommend

hrizontal thermal oil boiler
Horizontal three-coil structure thermal oil heater boiler, It's easy to install and operate. The body is composed of outer oil, middle oil, inner oil and rear oil. Heat transfer surface is formed by round coilers, sufficient arrangement, ensure 100% safety.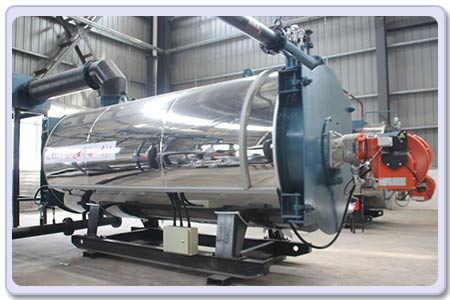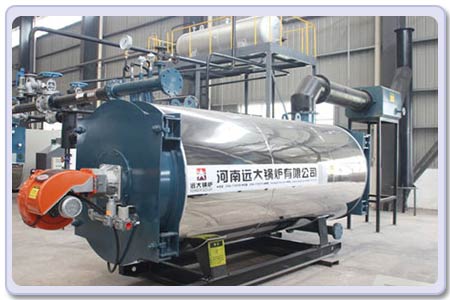 Gas/Diesel Fired Oil Heater Boiler Unit---Whole System Equipment List
Boiler Body
Oil Storage Tank
Oil Expansion Tank
Oil Gas Separator
PLC Control Panel
Gas/Oil Burner
Oil Circulating Pumps
Flue Gas Pipe & Chimney
Economizer
Gauges & Valves & Instrument
About us
Related Thermal Oil Heater
Power: Electric, coal, wood, biomass
Model: Vertical type, horizontal type, portable type, skid type, containeried type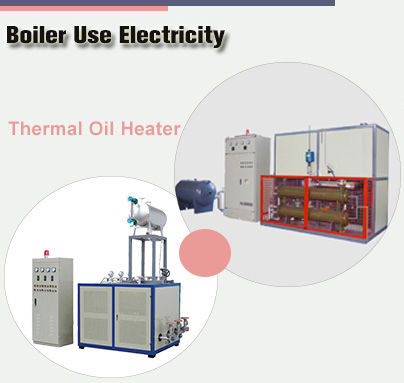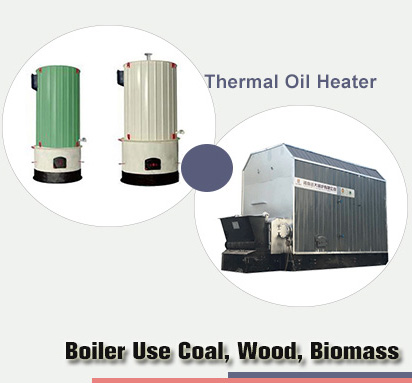 Why Choose Us ?
Yuanda Boiler Boilers Sale Service Already Cover 102 countries !

About us

Yuanda Boiler



1. Products Certificates Qualifications
Yuanda products comply with international boiler manufacturing inspection standards such as ISO ASME CE SGS DOSH EAC.
2. Professional & Trustable
Yuanda Boiler, has professional technical research and development team, mature production technician team, high-quality raw material suppliers, experienced installation engineer team (have been to more than 50 countries to be responsible for after-sales installation and commissioning services)
3. Yuanda Boiler Since 1956
Till now, Yuanda Boiler has a 66-year history of development, continuous innovation, continuous progress, and never stops. With a large number of loyal boiler users, the good reputation has also driven the promotion of the Yuanda brand, and the market share has been increasing.
4. Reliable Service For Life-time
Before-sale services | on-sale services | after-sale services. We always adhere to the principle of customer-oriented and customer service. Yuanda will provide life service for products forever, keep moving.
Our Boiler Strict Quality Control
1. All materials should be inspected before prodcution and each steel have its ID code which can trace its quality test.
2. 100% Non-Destructive Inspection report of steel plate tube & welding rod.
3. Hydraulic test: make sure strength and tightness of pressure parts.
4. Third part inspection report: By China Henan Boiler Inspection Institute.
Parameter
Model
Rated power(KW)
Rated pressure (Mpa)
Thermal oil temperature(℃)
Thermal efficiency(%)
Circulating Oil(m³/h)
System power(kw)
YY(Q)L-120Y(Q)
120
0.6-1.0
250-320
>80
12.5
5
YY(Q)W-240Y(Q)
240
0.6-1.0
250-320
>80
20
8
YY(Q)W-350Y(Q)
350
0.6-1.0
250-320
>80
40
10
YY(Q)W-470Y(Q)
470
0.6/1.0
250-320
>80
60
15
YY(Q)W-700Y(Q)
700
0.8/1.0
250-320
>85
80
20
YY(Q)W-950Y(Q)
950
0.8/1.0
250-320
>85
400
45
YY(Q)W-1200Y(Q)
1200
0.8/1.0
250-320
>85
100
55
Note: Parameter is for reference only, if any changes should follow the factory technical data.
Inquiry
Please feel free to submit your inquiry information to us. We will contact with you as soon as possible