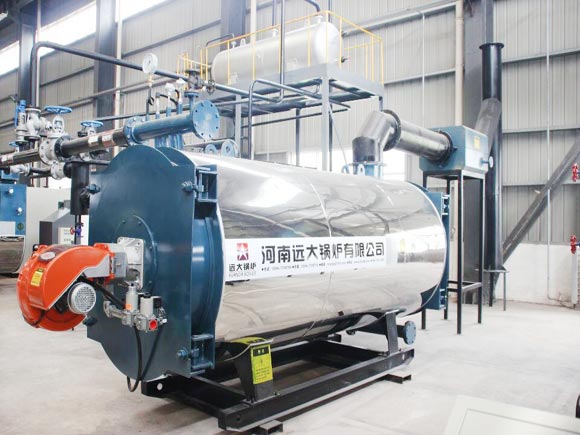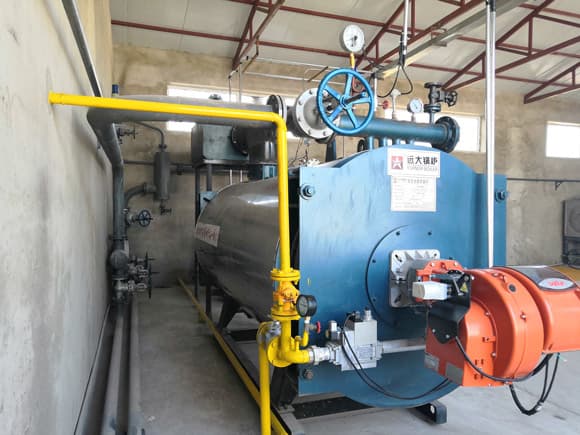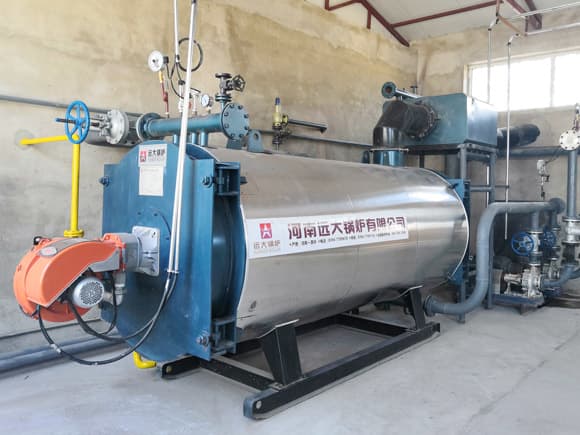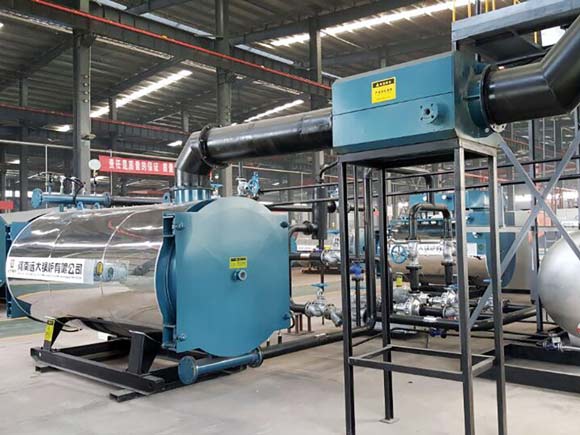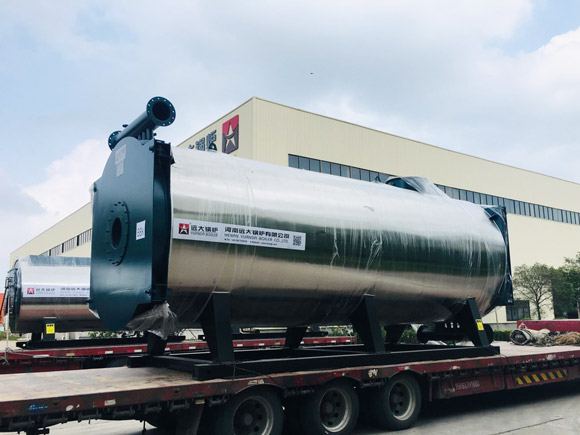 Gas/Diesel Thermal Oil Boiler
Capacity:200kw-14000kw; 200,000kcal-12,000,000kcal
Heating temperature:0-360°C
Fuel:Natural gas, lpg, diesel, heavy oil, exhaust gas, dual fuel, etc
Usage:Textile, plywood, rubber, bitumen, asphalt, buildings material...
Features:YYQW horizontal thermal oil boiler / 200kw-14000kw boiler / three-coil oil heater
Get price
Send Message
Introduction
Gas/Diesel

Thermal Oil Boiler
YYQW series thermal oil boiler, adopt horizontal chamber combustion three-coil structure, its body is composed of outer oil, middle oil, inner oil and rear oil.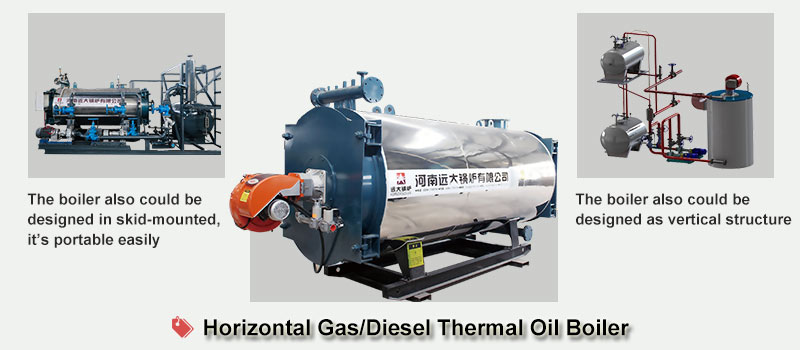 Question: How boiler heating oil circulately ?
1. Feeding tansfer oil into boiler through oil-gas seperator powered by oil-pump.
2. Full-oil boiler, cold oil will stay forced circulating for 6-8Hours, sametime exhaust the gas in oil.
3. Then running thermal oil boiler, deliver the heat between heating equipment and boiler. It can obtain a high operating temperature at low pressure and can do high-precision control on the medium.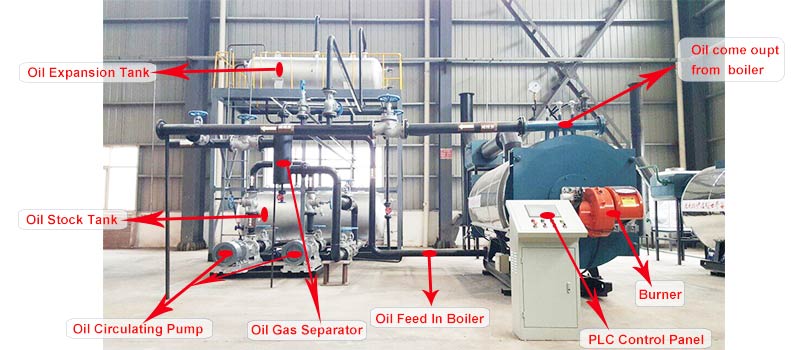 Advantages of YYQW thermal oil boiler
1. It is easy and convenient to install the boiler, only setting the boiler on the foundation.
2. Heating surface formed by round coils, reducing thermal load of tubes surface, ensure safety.
3. Furnace dimensions matching with combustion flame, positive pressure combustion,high radiation heat efficiency.
4. Coil pipe, thermal oil boiler structure is compact, saving the floor area of boiler room.
5. An air pre-heater or heat recovery boiler is placed behind the boiler to improve the thermal efficiency.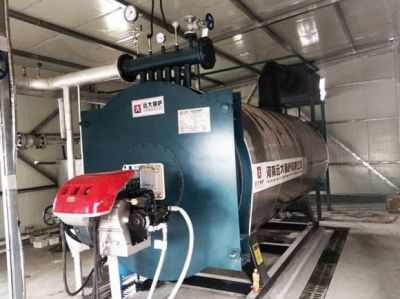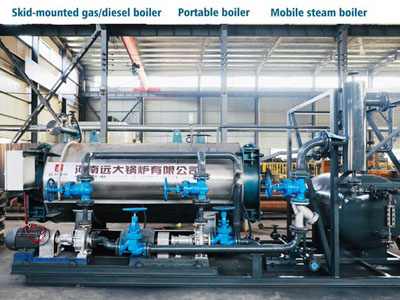 Our Service
Package & Delivery Thermal oil boiler

Related Boiler

Coal/biomass/wood oil heater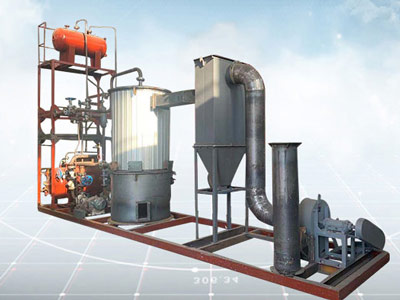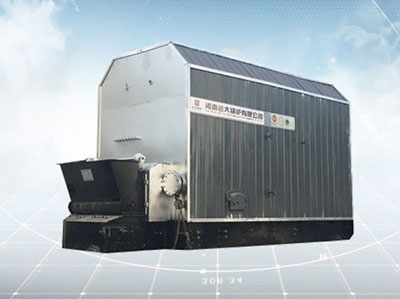 PS: The left is vertical wood/coal fired thermal oil boiler. The right is horizontal coal/biomass/wood oil heater boiler.
Why Choose Us ?
1. We offer all kinds of boiler machine, customized service for customers' demand, send your specific details to us.
2. 60+Years' experience in boiler design, technique, production, installation and operation. 10+Years export boiler experience.
3. Global service team for boiler solution, boiler design, order contract, boiler delivery, boiler install and commissioning.
4. Until now, Yuanda boilers have been exported to 88 countries and regions such as Bangladesh, Nigeria, Chile, Russia, etc. More than 8000+ boiler projects worldwide.
Global Boiler Service
1. Offer catalogue, various boiler model for choose, inquire one you prefer.
2. Technical discussion on boiler system solution for your company use.
3. Warmly welcome all customers come to visit the production base
4. Trustable after sale service, for boiler installation, training operators.
Parameter
Model
Rated power(KW)
Rated pressure (Mpa)
Thermal oil temperature(℃)
Thermal efficiency(%)
Fuel comsumption
max transportation weigh(t)
light diesel oil(kg/h)
natural gas(Nm³/h)
YY(Q)W-700Y(Q)
700
0.8/1.0
250-320
>96
61.3
73.6
3
YY(Q)W-1400Y(Q)
1400
0.8/1.0
250-320
>96
122.6
147.1
4
YY(Q)W-3000Y(Q)
3000
0.8/1.0
250-320
>96
249.2
296.4
10
YY(Q)W-3500Y(Q)
3500
0.8/1.0
250-320
>96
305.6
366.8
10.2
YY(Q)W-4200Y(Q)
4200
0.8/1.0
250-320
>96
367.5
436.6
16.5
YY(Q)W-5600Y(Q)
5600
0.8/1.0
250-320
>96
489.6
586.8
23.6
YY(Q)W-7000Y(Q)
7000
0.8/1.0
250-320
>96
612.3
726.9
28
Note: Parameter is for reference only, if any changes should follow the factory technical data.
Inquiry
Please feel free to submit your inquiry information to us. We will contact with you as soon as possible