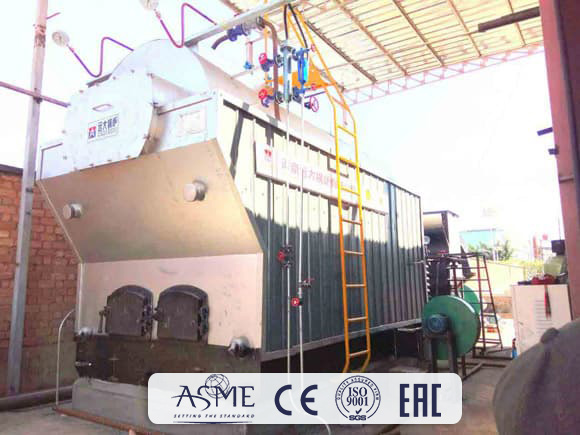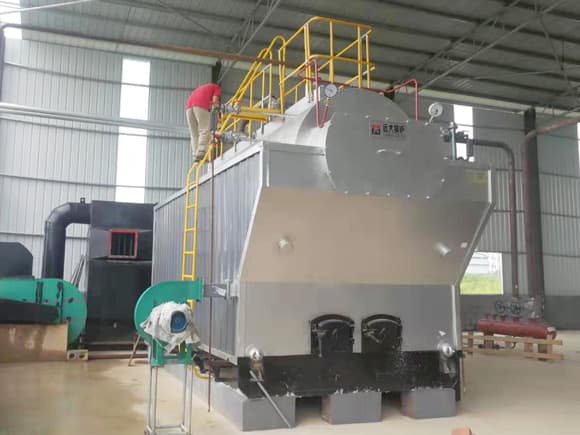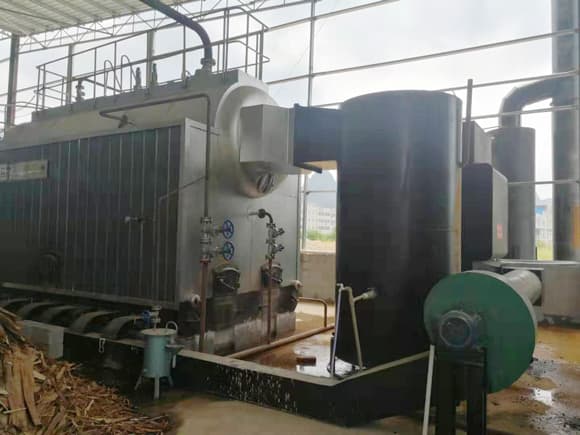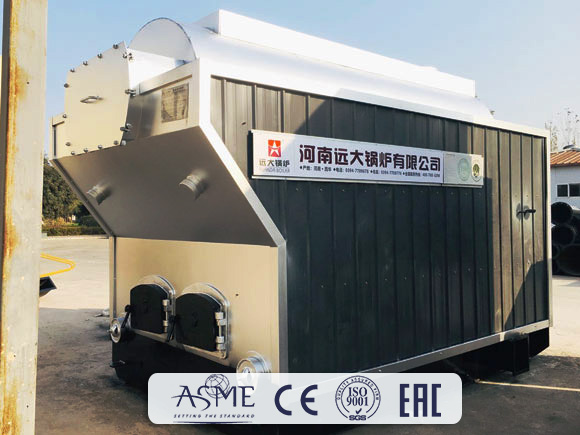 Waste Fabric Jute Fired Boiler
Capacity:100kg-10000kg
Model:Vertical, Horizontal
Heat Medium:Steam, Thermal Oil, Water
Fuel:Jute, Waste Fabric/clothes, Coal, Wood, Biomass, Solid material
Industry:Garments, Textile factory, Ricemill, Paper, Poultry, Packaging......
Get price
Send Message
Introduction
Jute Boiler | 100kg-10000kg 100kw-7000kw
Structure: Horizontal type, Vertical type
Fuel: Jute, Jhute, Waste cloth, Waste Fabric, Coal, Wood, Biomass, Solid material

Jute boiler, steam boiler capacity 0.3ton-10ton, generally use jute/waste cloth/waste fabric burning to supply thermal power in garment factory.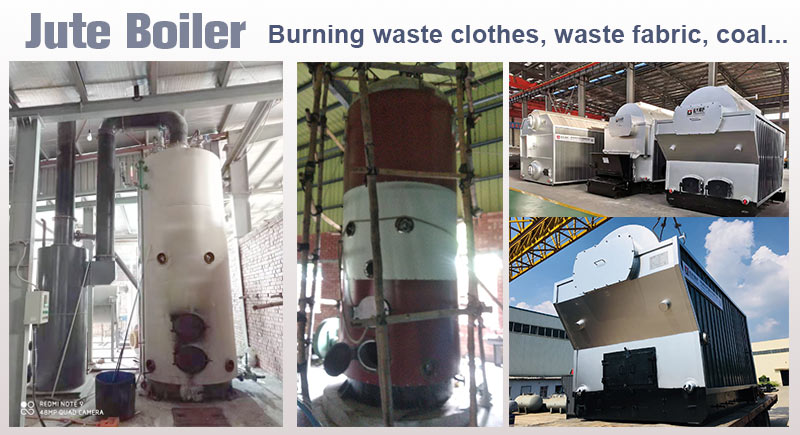 ---
1. Horizontal Jute Boiler

DZH/DZG series package fire-tube & water-tube boiler, it's manual feed type boiler with travelling grate/fixed grate. Horizontal jute fired boiler capacity in 1ton-10ton. Strong work pressure power to supply steam heat for garments factory.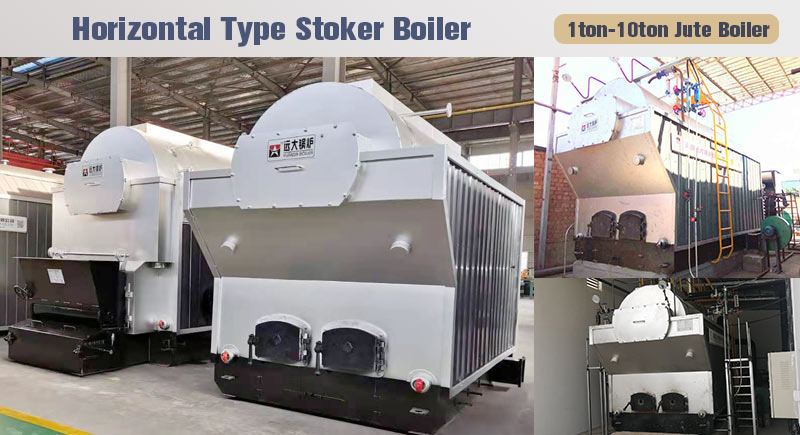 2. Vertical Jute Boiler

LSC Series vertical type jute boiler capacity in 100kg-2000kg, water tube boiler, widely used for waste cloth burning in garment factory, popular in Bangladesh market, advantages with compact structure, easy to install, small footprint, small investment.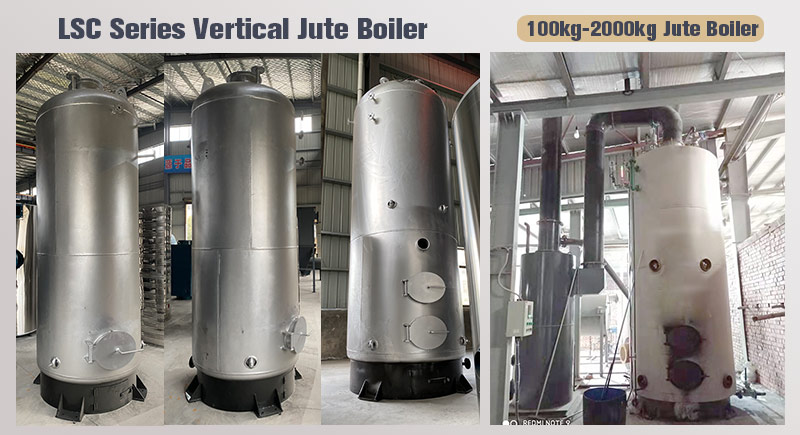 3. Features of Yuanda Jute Boiler

1. It's a adaptable to a wide range of fuels including Jute, Jhute, Waste cloth, Coal, Wood, Biomass, etc.
2. Yuanda unique furnace boiler design, easy to burning waste jute, offer strong power to steam generation.
3. Saving money and time: custom designed and feeding system, slag discharge system, flue gas treatment system.
4. Easy feeding and discharge, high level of automation that requires less operational and maintenance personnel.
5. Remark: refer to fuel thermal value, give advise that mix waste with coal/wood as fuel burnng, will ensure power.
4. Yuanda 200+ Boilers Projects In Bangladsh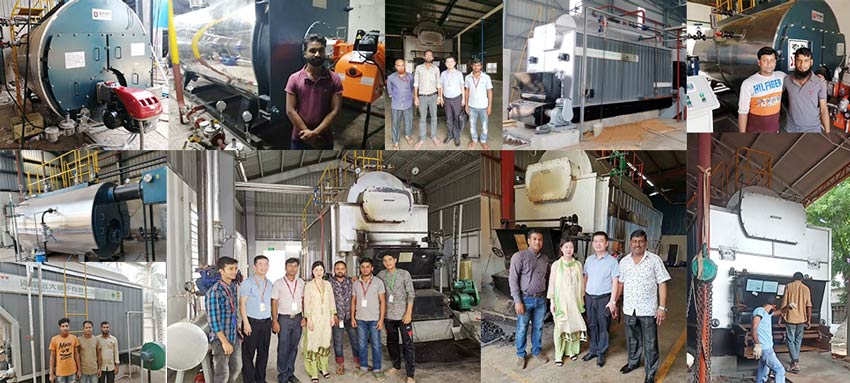 Global Sales
Catalogue All Products
1. Gas boiler, Lpg boiler, Diesel boiler, Heavy oil boiler, Dual fuel boiler, Exhaust gas waste heat recovery boiler
2. Coal boiler, Charcoal boiler, Wood boiler, Biomass boiler, Pellet boiler, Ricehusk boiler, Palm shells boiler
3. Electric boiler, Electric steam generator, Electric hot water boiler,
4. Thermal Oil Heater Boiler, Thermic Fluid Heater, Hot Oil Boiler. (Powered by gas, diesel, electric, coal, wood biomass)
5. Steam Boiler, Hot Water Boiler, Steam Generator Boiler, Combined Heat and Power Boiler, Superheated Steam Boiler

About us Yuanda Boiler
1. All products Certified With ASME, CE, ISO, EAC, DOSH, TUV, BUV, Ensuring High Quality and Compliance with International Standards.
2. Our company established since 1956, over 65 years manufactureing experiences, 15 Years export experience.
3. Global service team for boiler solution, boiler design, order contract, boiler delivery, boiler install and commissioning.
4. Until now, our products have been exported to 103 countries all over the world, trustable quality & services for lifespan.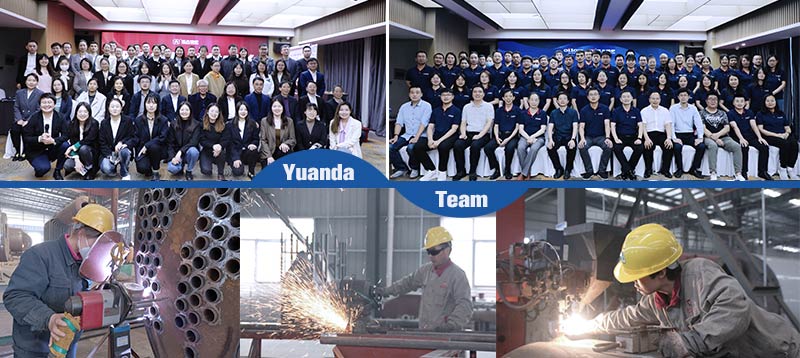 Parameter
DZ Series Steam Boiler Technical Parameter Table
Model
Rated capacity(t/h)
Rated pressure (Mpa)
Rated steam temperature(℃)
feed temperature(℃)
Thermal efficiency(%)
Boiler water volume(m³)
Exhaust temperation(℃)
Fuel comsumption(Kg/h)
max transportation weigh(t)
DZH1
1
1.0/1.25/1.6
184/194/204
20/104
>82
3.15
127.25
192.32
9
DZL1
1
1.0/1.25/1.6
184/194/204
20/104
>82
3.15
113.34
190.42
13.5
DZH2
2
1.0/1.25/1.6
184/194/204
20/104
>82
4.75
126.41
386.47
15
DZL2
2
1.0/1.25/1.6
184/194/204
20/104
>82
4.77
106.34
393.77
22
DZH4
4
1.0/1.25/1.6
184/194/204
20/104
>82
7.7
137.25
782.29
18.5
DZL4
4
1.0/1.25/1.6/2.5
184/194/204/226
20/104
>82
8.2
124.49
756.89
27.6
DZH6
6
1.0/1.25/1.6/2.5
184/194/204/226
20/104
>82
7.4
146.83
1169.57
25
DZL6
6
1.0/1.25/1.6/2.5
184/194/204/226
20/104
>82
8.1
137.29
1148.68
35
DZL8
8
1.0/1.25/1.6/2.5
184/194/204/226
20/104
>82
9.6
141.06
1602.44
38
Note: Parameter is for reference only, if any changes should follow the factory technical data.
Inquiry
Please feel free to submit your inquiry information to us. We will contact with you as soon as possible