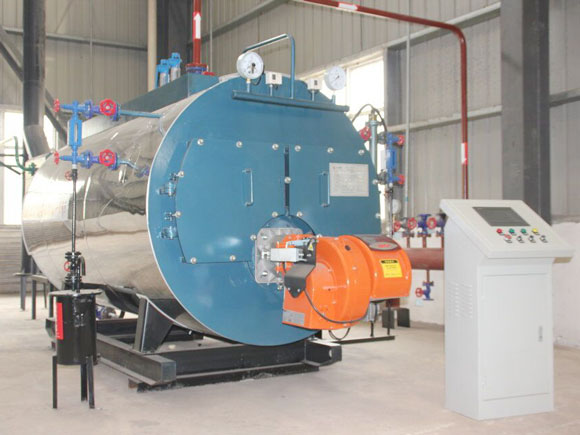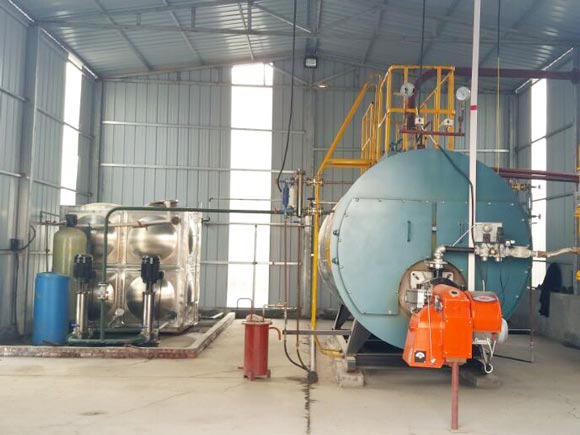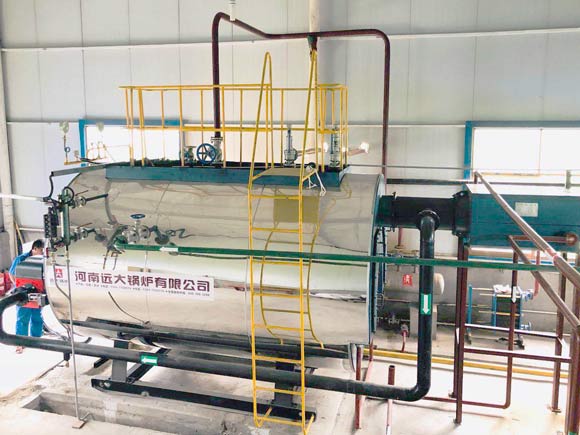 WNS Gas/Oil Fired Boiler
Capacity:100kw-35000kw
Pressure:0.1Mpa-3.8Mpa
Fuel:Natural gas, lpg, diesel, heavy oil, exhaust gas, dual fuel, etc
Industry:Foods, Garment, Textile, Paper, Brewery, Ricemill, Dairy Products, Laundry, Poultry feed, Package, Plywood, Building material, Chemical, etc
Get price
Send Message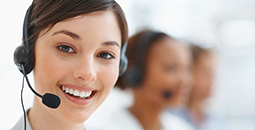 Contact us
Skype/whatsapp:
+86-18236986701
Introduction
Boiler: steam boiler, hot water boiler
Capacity: 0.1t/h-50t/h; 100kw-35000kw; 10hp-3000hp
Working Pressure: 0.1Mpa-3.8Mpa; 1bar-38bar
Aavailable fuel: Natural gas, lpg, oil, diesel, heavy oil, exhaust gas, dual fuel
Description: Gas-fired(Oil-fired) boiler, auto-running packaged boiler, widely used for Foods, Garment, Textile, Paper, Brewery, Ricemill, Dairy Products, Laundry, Poultry feed, Package, Plywood, Building material, Chemical, Center Heating, etc
WNS series boiler is horizontal type fire tube boiler, design capacity in 0.5ton-20ton, Fuel could be gas oil diesel heavy oil lpg cng, etc. With modern appearance, compact structure, reasonable heating surface layout and energy saving. You can save 5-10% of running cost!
Core Technology:
1. Independently research and develop PLC control system, intelligent matching, rich functions, safe and convenient.
2. Intelligient control for water level and pressure alarm, add the fifth water level protection.
3. Flame-out protection, power failure self-locking protection function.
4. Boiler operation data query and automatic fault identification function.
5. Data collection, analysis, storage and remote monitoring of the Internet.
6. Industrial packaging design, beautiful and durable.

Application:
WNS series boiler, widely used for industry production and processing, such as Beverage factory, Textile factory, Food processing industry, Feed mill, Refinery, Rice mill, Sugar mill, Wood processing industry, Garment factory, Paper mill, etc. Hot water boiler is widely used in hospital, hotel, school, greenhouse, etc.
The Gas/Oil Fired Boiler Projects: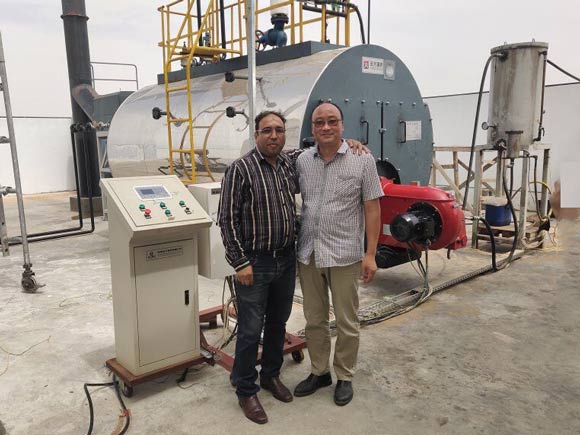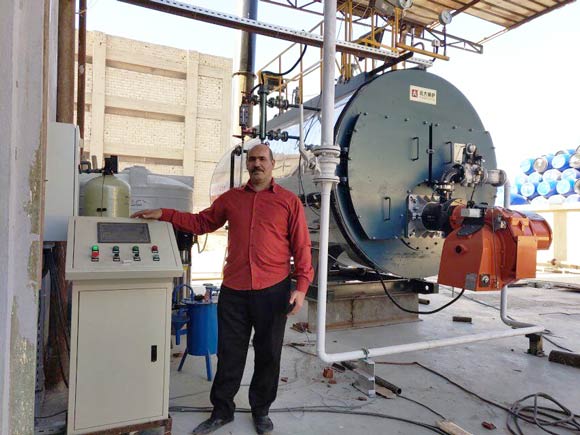 Offer whole sets equipment inclduing boilers and accessories, Offer perfect service including installation work by boiler expert.
More
We provide various models of Industrial Boilers to meet the requirement of most industrial production, including Steam Boiler, Hot Water Boiler, Thermal Oil Boiler, Fire/Water Tube boiler, Electric Boiler, Horizontal & Vertical Boiler. Fuel: Gas/Oil/Dual fuel; Coal/Wood/Biomass/Jute/Bagasse/Shells/Chips/Solid fuel, Electric, etc.
Choose boiler: There are more various boiler model for choose, inquire one you prefer.

Technical discussion: Offer professional boiler system plan for your choose
Factory visit: Warmly welcome all customers come to visit the production base
Inquire now: Known about boiler requirements for your projects, Email us at any time: shirley@yuanda-boiler.com


Parameter
WNS Series Steam Boiler Technology Parameter Table

Boiler model


Rated
capacity
Rating
pressure
Feed
temperature
Steam
temperature
Active grate area
Thermal
efficiency
Weight
Dimensions
Light oil




Heavy oil

Natural gas

Liquid gas

City gas

t/h
MPa
℃
℃
Kg/h
Kg/h
m3/h
m3/h
m3/h

%

Ton
mm
WNS1-1.0-Y(Q)




1
1
20
184
65.5
67.3
84.2
29
176
91
4.3
3561×1690×1910
WNS 2-1.25- Y(Q)




2
1.25
20
194
129.6
132.2
165
57.3
346
92
7.2
4111×1950×2199
WNS3-1.25-Y(Q)




3
1.25
20
194
192
195
250
82
510
92.1
8
4330×2248×2564
WNS4-1.25- Y(Q)




4
1.25
20
194
256
261.9
323.6
109
682
93
9.6
4732×2150×2448
WNS5-1.25- Y(Q)




5
1.25
20
194
318
322
386
140
87
93
12.5
5970×2360×2796
WNS6-1.25- Y(Q)




6
1.25
20
194
380
390.6
450
164
1020
93.2
16.5
5500×2600×2990
WNS8-1.25- Y(Q)




8
1.25
105
194
503
517
642
209
1321
93.5
24.8
6450×2800×3200
WNS10-1.25- Y(Q)




10
1.25
105
194
628
643
805
264
1654
93.5
26.8
6800×2900×3394
WNS15-1.25- Y(Q)




15
1.25
105
194
940
965
1182
400
2417
93.5
38
7150×3200×3540
WNS20-1.25- Y(Q)




20
1.25
105
194
1250
1301
1597
520
3299
93.5
55
8200×3400×3826
Inquiry
Please feel free to submit your inquiry information to us. We will contact with you as soon as possible
Copyright © Henan Yuanda Boiler Corporation Ltd. All Rights Reserved Site Index Product Index